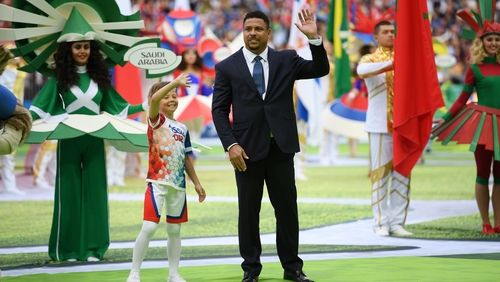 The hospital could not immediately be reached by Reuters for comment.
Local newspaper Diario de Ibiza said the two-time Ballon d'Or holder and 2002 World Cup Golden Boot victor is in the intensive care unit at the private Policlinica Nuestra Senora del Rosario hospital on the Spanish island, after being taken to a public hospital on the island on Friday evening.
The 41-year-old, widely considered one of the world's best-ever players, was admitted to the intensive care unit of the Can Misses Hospital on the island on Friday afternoon where he was diagnosed with pneumonia, local daily newspaper Diario de Ibiza reported.
Hospital sources have said he is still in intensive care but making good progress. No further information is now available about his condition.
He is believed to have arrived in Ibiza for a summer break a few days ago.
His full name is Ronaldo Luis Nazario de Lima.
He is no stranger to illness, however.
Since retirement, however, he has battled thyroid problems and gained significant weight.
After winning everything there is to win in the game he retired in 2011. Tissue swells, and it can cause coughing and breathing difficulties.
It can be life-threatening, especially among the elderly and those with underlying health conditions.
The big question at the 2002 World Cup in South Korea and Japan centered on Ronaldo. He has won the elusive trophy in 1994 and 2002 and has scored 62 times for Brazil.
Here's hoping that he can make a speedy recovery.