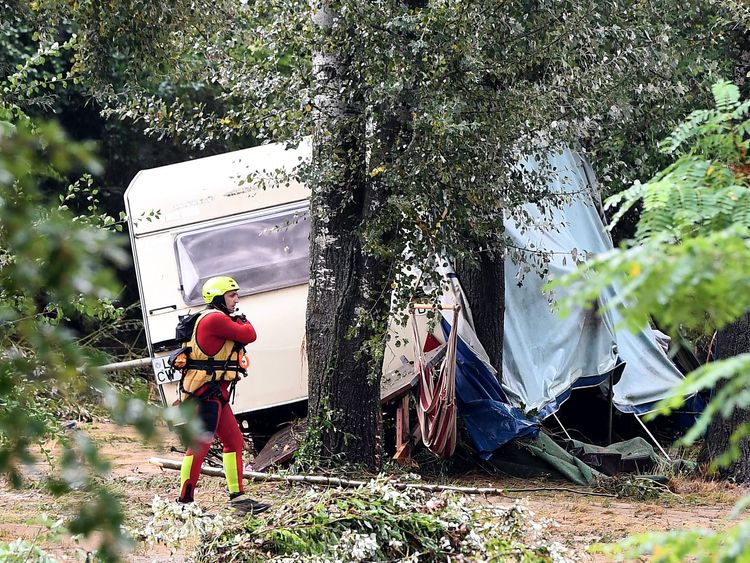 Torrential rains Wednesday caused the heavy flooding in the Gard region.
Between storms, Ms Alford took pictures of people in canoes in the flood outside the mobile home she was staying in. Some people were concerned, but the campsite were good at reassuring us.
About 750 people, mostly from campsites, were evacuated in the Gard region alone, local authorities announced last night.
Rachel Buchanan, from Oxford, was left with a "frightening" drive through floodwaters that had hit a site near a river in the neighbouring Ardeche region.
Heavy rain in the Gard, Ardèche and Drôme areas destroyed tents while a 67-year-old German man at a camp in Saint-Julien-de-Peyrolas in the Gard region was feared to have been swept away with his van by floodwater.
Trapped by a fast-flowing torrent, he sought shelter inside his caravan - but the vehicle was swept away, the AFP news agency reports.
"The level and speed of the river today was extraordinary - we woke up in about a foot of water", she said. Everything is being done to try and find him, with waterways being searched where possible.
Four German children were hospitalized for hypothermia in Bagnols-sur-Ceze, a town on the Ceze River, Dousset said.
"No one has suitcases".
A French prosecutor says that two Germans detained after 119 children were evacuated from their flooded campsite in southern are being sent before an investigative judge for possible charges of involuntary injury by endangering others.
France's interior ministry said in a statement that four helicopters and 400 police, security staff and firefighters have been involved in the rescue so far.