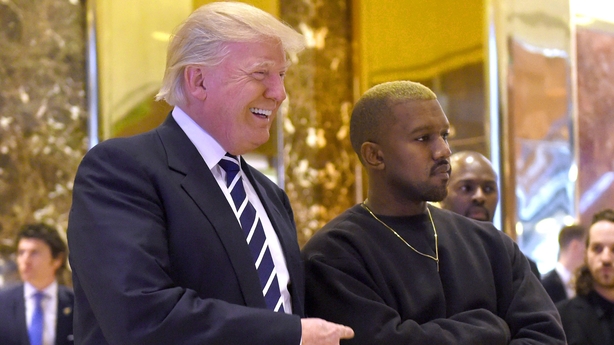 West considered the question, sitting silently without answering before the programme cut to an advert break.
According to reports, Lansky has penned an open letter to Ye with the offer after getting shouted out during the rap star's "Jimmy Kimmel Live!" appearance this week.
West has been a vocal supporter of President Trump and has been a recipient of backlash because of it.
The move created a bit of a media storm, and Kanye has since taken to social media to claim he was simply not given enough time to answer, and needed more time to think. Hell, he could have even made a 25-tweet thread about why he thinks Donald Trump cares about black people.
The rapper released his new song "XTCY" on Friday night via a tweet from DJ Clark Kent and the artwork of the track - which featured a shot of the Kardashian-Jenner sisters at Kylie's 21st - was something of a giveaway about the lyrical content.
Before West, 41, had a chance to respond the show was taken to commercial break.
West, still not answering the Kimmel's question, went on to say, "I was so happy when I saw Jimmy walk out in the Yeezys".
Now, Kanye has taken to Twitter to dispel the notion that he didn't have an answer.
West said earlier in the segment he would not be "bullied" by those on the left because he supported the president.
President Trump thanks rapper Kanye West for increasing his support with African-Americans.
The father-of-three went on to address his now infamous TMZ Live interview from May in which he said slavery "sounds like a choice".
Kimmel had earlier asked West if he was anxious about his wife, Kim Kardashian West, being alone with the president in the Oval Office during a recent visit. I got more of 'em.
Kanye West visited Donald Trump at the Trump Tower after he was elected.