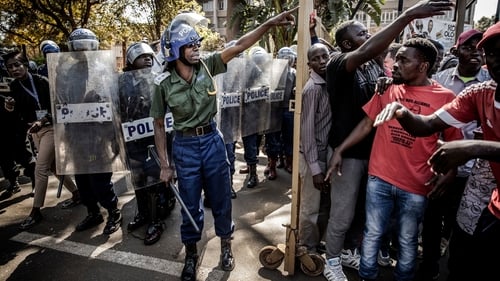 The outcome will be announced once results from all provinces are received and verified, Priscilla Chigumba, the chair of the electoral commission, told reporters.
A supporter of Zimbabwe African National Union Patriotic Front (ZANU PF) party walks past a party billboard after attending the final rally at the National Sports Stadium in Harare, Zimbabwe, July 28, 2018.
Kenyans will recall how the main opposition coalition NASA, through its chief campaigner Musalia Mudavadi invited the media only to declare its candidate Raila Odinga the "winner" of last year's divisive elections.
Vote counting began at polling stations across the country after polls closed Monday evening.
Zimbabwe's ruling party Zanu-PF has maintained its power in that country, winning the majority of seats in parliament, according to early results confirmed by the Zimbabwe Electoral Commission.
A two-thirds majority in parliament would allow Zanu-PF to amend Zimbabwe's constitution.
Election officials reported a massive 75 percent turnout, as Zimbabweans welcomed the opportunity to exercise their democratic right.
The MDC accused the election commission on Tuesday of deliberately delaying results of this week's vote to favour the ruling party, reporting irregularities in the first poll since the removal of Robert Mugabe in a bloodless November coup.
Nelson Chamisa, 40, and Mnangagwa, 75 were the main contenders in Monday's election, the first since Robert Mugabe was forced to resign after a de facto coup in November after almost 40 years in power.
Opposition supporters burnt tyres in the centre of the capital Harare, blocking some streets and engaging in running battles with police who fired water cannon to disperse the protesters.
The opposition leader Nelson Chamisa's Movement for Democratic Change (MDC) had won 41 seats.
Observers from the EU, Southern African Development Community and the African Union are due to give separate reports on Zimbabwe's election later on Wednesday.
Most of the organisatiosn were already in the country before the polls and expressed confidence that the peaceful environment in the country was conducive for free, fair and credible polls.
The commission said it would delay releasing any results of the presidential race until all the votes are collated.
"Let me also warn such individuals and groups that no one is above the law", Home Affairs Minister Obert Mpofu said. One independent candidate and a member from a party linked to Mugabe also won one seat each.