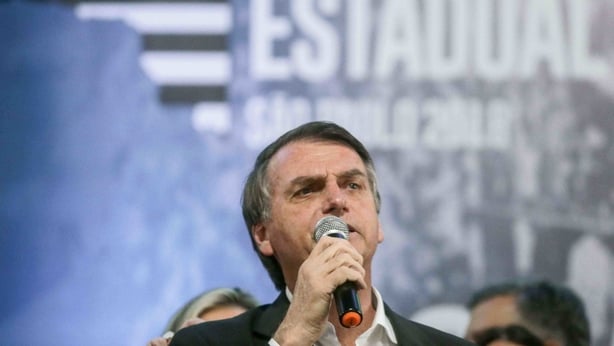 But the final outcome, to be decided by a run-off election October 28 if no candidate gets more than 50 percent of valid ballots in the first round, is still far from certain.
He asked them to give him a majority to avoid a second vote, which some polls have shown his leftist challenger winning.
A duel between Bolsonaro and Haddad would see a 44-42 percent split, according to Datafolha - too close to call given the plus-or-minus-two-point margin of error. That figure was not released for Saturday's poll.
Supporters for Bolsonaro and Haddad are divided largely along class lines, with "higher-income, better-educated" voters in the country's more industrialized south and southeast regions backing Bolsonaro, and working-class Brazilians in the north supporting Haddad.
Mr Bolsonaro, a former army captain, said he was under doctors' orders to stay away from the debate on TV Globo, the country's largest network.
His decision was emblematic of his unconventional presidential bid that has eschewed traditional campaigning in favour of grassroots organising through social media and selective interviews. Haddad stood at 22%.
Brazilian presidential candidate Fernando Haddad (R), Minas Gerais state governor Fernando Pimentel and vice presidential candidate Manuela d'Avila attend a rally in Belo Horizonte, Brazil October 5, 2018.
Haddad, a former mayor of Sao Paulo, was confirmed as top of the Workers Party ticket three weeks ago, replacing Lula, who was barred from running due to a corruption conviction. Bolsonaro has a long history of making racist, misogynistic and homophobic comments, and has risen in the polls since September 8 when he was stabbed while campaigning.
He vows to loosen gun laws so citizens can defend themselves, protect family values and slug it out with powerful drug gangs responsible for a record 64,000 murders in 2017. Investors blame the party for plunging Brazil into its worst recession in 2015-2016.
The signs that Bolsonaro is gaining momentum drove Brazil's stock index up to a near five-month high and its currency to its strongest level in nearly two months on Wednesday. Yet Bolsonaro's economic positions remain unclear. Bolsonaro, who is backed by a group of retired generals, said last week he would only accept victory.