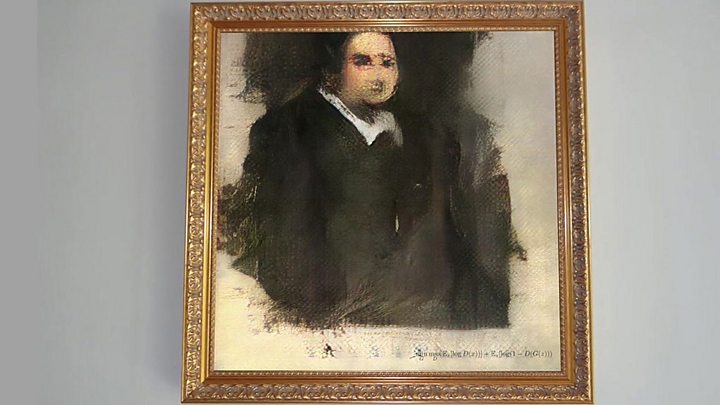 In the Prints & Multiples sale at Christie's, Portrait of Edmond Belamy sold for an incredible $432,500, signalling the arrival of AI art on the world auction stage.
A surreal, blurry painting, titled Portrait of Edmond Belamy, sold for $432,000 at an auction at Christie's in New York City Thursday, the BBC reported.
The final price of the painting was almost 45 times higher than the US$7,000 to US$10,000 estimate put by the major auction house.
The work was the brainchild of Obvious Art, a Paris-based collective, with help from an algorithm known as GAN (Generative Adversarial Network).
GAN comprises two components, a generator and a discriminator, which together are fed a data set of 15,000 portraits. Then a "Discriminator" looks at the result and tries to work out if the image has been painted by a human or created by the Generator.
Richard Lloyd, the worldwide head of prints and multiples at Christie's, told AFP that he made a decision to persuade the collective into posting their work through the auction house in order to encourage a debate regarding AI in art.
"Portrait of Edmond Belamy" is one of 11 AI paintings made by Obvious. Obvious consists of artists Hugo Caselles-Dupré, Pierre Fautrel and Gauthier Vernier, according to a statement released by the auction house.
Christie's said that the work was snapped up by an anonymous telephone bidder after a five-way battle between telephone and online bidders, and one bidder in the room.
"I know it's a debate that's going on quite widely". So I think human artists will be working side by side with this algorithm and creating hybrid art. On its website, Obvious says its goal is to "explain and democratize" the rapid advancement of artificial intelligence and machine learning through its art.
Since the story about Belamy hit the mainstream, Obvious has tried to give credit to Barrat and Goodfellow, but the greater AI art community has scorned them as being amateurs who lucked out with someone else's code.