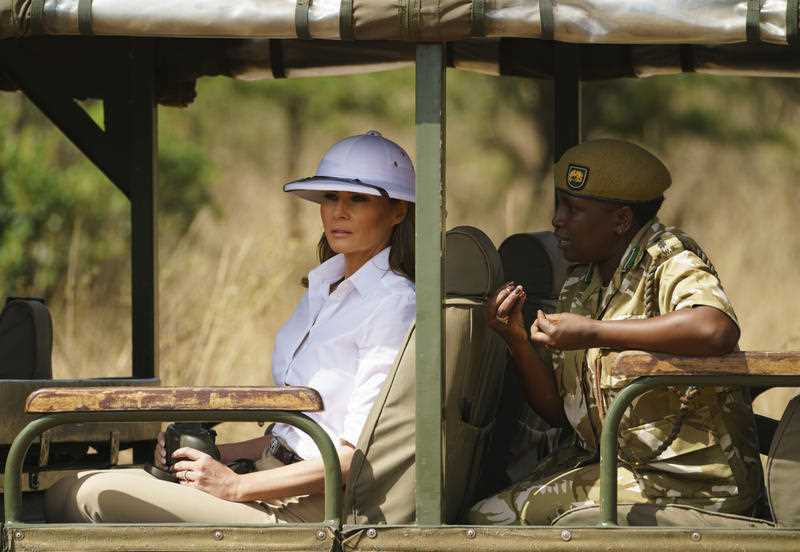 The four-country trip was a coming out of sorts for the US first lady on the world stage.
On another American subject, the First Lady praised Supreme Court nominee Brett Kavanaugh, who faces sexual assault allegations, saying she was glad he and his accuser had a chance to be heard, according to Reuters.
Another key goal of her tour is to promote "education, healthcare, some conservation, and tourism", her spokeswoman said earlier.
She was shown a pile of ashes, after the park burnt 105 tonnes of ivory to dissuade people from the trade. As for Ford, Mrs. Trump declined to venture an opinion but said "we need to help all victims, no matter what kind of abuse" they experienced.
CNN reported that while talking to Egyptian press, they asked about her fashion choices to which Melania replied: 'I want to talk about my trip and now what I wear.
On the same trip Trump was mocked for the sartorial get-up she wore on her trip to visit the pyramids and Great Sphinx. The attire quickly became a symbol of oppression and colonial rule.
The critics were aghast at her outfit and her choice of headgear - Melania Trump, that is, during her African excursion.
NAIROBI, Kenya - Melania Trump briefly lost her footing when a baby elephant startled her with a sudden move, but the first lady was anything but out of step when children at an orphanage welcomed her to their home with African song and dance.
Melania also used this medium to spread the message of her "Be Best" Child Welfare Initiative. However, as ABC News pointed out, Donald Trump did not seem to have this view earlier this year, when he referred to Haiti and African nations as "sh*thole countries". Who could forget the time she wore a pair of Manolo Blahnik stiletto heels to tour a Puerto Rican disaster zone?
"Sometimes he listens and sometimes he doesn't". "I don't always agree with what he says and I tell him that", she said.
However, she also wanted to make it clear that she has her "own voice and my own opinions and it's very important for me that I express what I feel".
Melania was welcomed by Egypt's first lady, Entissar al-Sisi, at the Cairo International Airport and visited the USA embassy in Cairo, the Grand Egyptian Museum, as well as the pyramids and the Sphinx in Giza near Cairo.