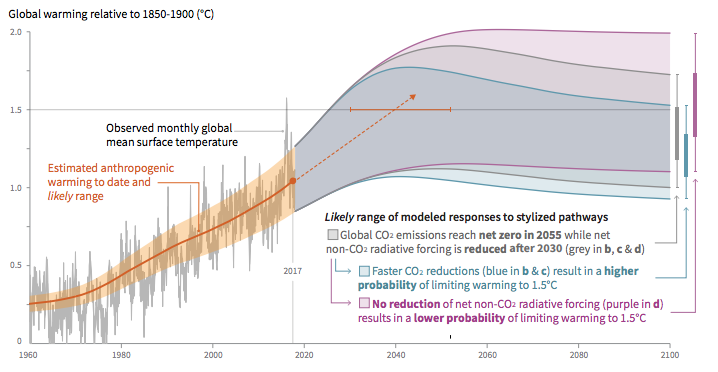 "The next few years are probably the most important in human history", Debra Roberts, head of the Environmental Planning and Climate Protection Department in Durban, South Africa, and an IPCC co-chair, told AFP.
The report was prepared by 91 authors and review editors from 40 countries.
The US is the "biggest" obstacle to forming a global coalition to fight climate change and the world needs to unite against the "obstructive approach" of the US, the CSE said while asserting that Paris Agreement and the United Nations Framework Convention on Climate Change (UNFCCC) can not be the only way ahead to address the climate change.
The lower target would also reduce species loss and extinction and the impact on ecosystems, the report said. By 2100, global sea level rises would be 10 cm lower with global warming of 1.5°C compared with 2°C, and coral reefs would decline by 70-90% with global warming of 1.5°C, whereas virtually all (99%) would be lost with 2ºC.
"India must take the lead in forming a global coalition for a 1.5°C world to save poor and vulnerable populations across the world including its own", Bhushan said.
Hans-Otto Portner, a bioscientist and member of one of the IPCC working groups, said: "Every extra bit of warming matters, especially since warming of 1.5C or higher increases the risk associated with long-lasting or irreversible changes, such as the loss of some ecosystems".
Parts of the world are already seeing the results - deadly heatwaves becoming more common and islands particularly in the Pacific experiencing rising water levels.
"Though it will be very hard in the current global economic system to limit warming to 1.5°C, but it is not impossible".
Lowering emissions to this degree, while technically possible, would require widespread changes in energy, industry, buildings, transportation and cities, according to the report.
In one of its key findings, the report stated that global net human-caused emissions of carbon dioxide (CO2) would need to fall by about 45 per cent from 2010 levels by 2030, reaching "net zero" around 2050 in order to control global warming.
"Limiting warming to 1.5 °C is possible within the laws of chemistry and physics, but doing so would require unprecedented changes", said Jim Skea, co-chair of the IPCC working group III.
Reacting to the report, Neil Thorns, director of advocacy at Cafod, the worldwide development charity, said: "This report proves that keeping global temperatures to 1.5C is a necessity, not an ambition".
The report stresses the need for measures to take carbon out of the atmosphere, such as planting forests or using land for crops to burn for energy and capturing the carbon and storing it underground, known as bioenergy and carbon capture and storage (Beccs).
The report released on Monday is also instrumental in guiding countries to draft their mitigation plan to tackle climate change while considering local context and people's needs. And that would have the side benefit of avoiding more than 100 million premature deaths through this century, the report said.
The report points out that the risk transition from 1.5°C to 2°C is very high and that the effects at 2°C will be more devastating than what IPCC's Fifth Assessment Report had indicated.
The Nobel Prize-winning Intergovernmental Panel on Climate Change warns that the goal set in Paris three years ago is fast slipping out of our reach.
It also highlighted the environment has already seent he consequences of 1ºC of global warming in the form of more extreme weather, rising sea levels and diminishing Arctic Sea ice, among other changes. "Climate change is significantly contributing to increased heat-related mortality", Times of India quoted the report as saying.
For the first time in a IPCC report, the authors included social and economic impacts.
"The report is unequivocal, the climate is changing now".
Why do we need to limit global warming to 1.5C?
. "Our countries are not near where they need to be on achieving the kinds of emission reduction that we need if we want to actually successfully fix the planet and reverse the changes that we've already made".