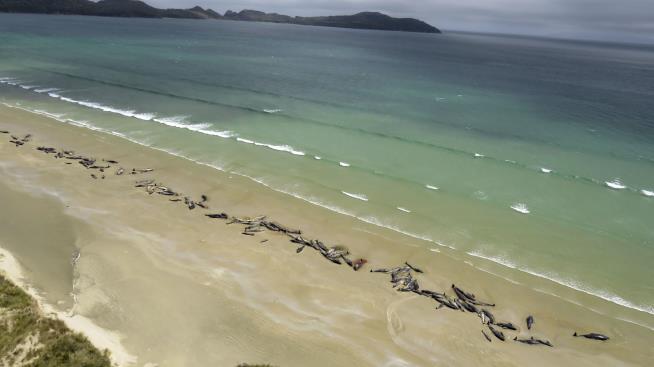 Roughly half of the whales were already dead by the time they were found, leaving officials from the New Zealand Department of Conservation with the "heartbreaking decision" to euthanize the remainder.
"Sadly, the likelihood of being able to successfully re-float the remaining whales was extremely low", said Ren Leppens, the Department of Conservation's operations manager on Stewart Island.
Two sperm whales, including one female pygmy, also died over the weekend in separate incidents.
Several stranding happened across New Zealand over the weekend. "However, it's always a heart-breaking decision to make".
The rest of the whales were euthanised due to their deteriorating condition and the remote, hard access to the location.
Ten pygmy killer whales were also stranded on Sunday at 90 Mile Beach on the western coast of the country's North Island.
A stranded whale is not a rare sight in New Zealand, where some 85 incidents are being reported every year.
More than 650 pilot whales beached themselves along Farewell Spit at top of South Island in two separate mass strandings a year ago, the largest of its kind in New Zealand for nearly a century.
"Whether they do become trapped or whether it's actually because one of the members of the pod is sick and then the other whales follow, we actually have no idea why".
It is not known precisely why whales and dolphin strand, but some contributing factors are thought to be navigational error, sickness, extreme weather, geography and in an attempt to escape from a predator.
Southland District councillor Bruce Ford said pilot strandings were not uncommon at Mason Bay. The biggest recorded pilot whale stranding was an estimated 1000 whales at the Chatham Islands in 1918.
DOC has notified local Ngāi Tahu iwi and is working together on next steps.
"We are aware that all the affected whales are dead and we wish that appropriate respect is given to these taonga".
The whales had been 22 miles from Oban, the main town on Stewart Island, which only has around 400 people.