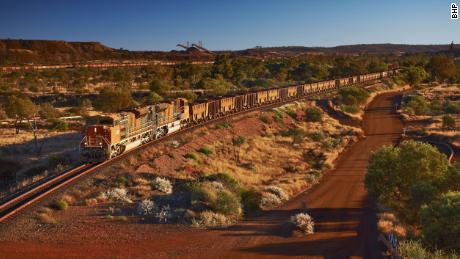 A BHP Billiton iron-ore train travelled 92km without anyone on board in WA after its driver stepped out to check an issue with one of its wagons.
A driverless, 268-car iron ore train was derailed in Western Australia on Monday - but only after it traveled almost 60 miles without an engineer, officials said.
BHP suspended all Western Australian iron ore rail operations after opening an investigation into the incident.
It was operated by mining company BHP Billiton and traveling across Western Australia from the remote mining town of Newman to Port Hedland on Monday.
A BHP spokeswoman told the West Australian newspaper no one was injured.
The damage to the vehicle was substantial, the Australian Transport Safety Bureau said.
'We are working with the appropriate authorities to investigate the situation, ' she said.
Iron ore alone is responsible for nearly 40 percent of BHP's earnings before interest, tax, depreciation and amortization (EBITA).
"While the driver was outside of the locomotive, the train commenced to runaway", the ATSB statement said.
The train travelled 92km until it was deliberately derailed by a control centre 119km from Port Headland about 5.05am, the ATSB site reported.