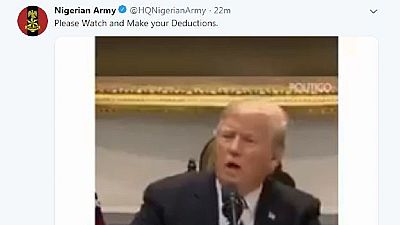 The clip shows the U.S. president saying, in reference to Central American migrants, "they want to throw rocks at our military, [then] our military fights back". "They want to throw rocks at our military, our military fights back", Trump said, referring to an incident in which some members of the caravan of Central American asylum seekers heading to the U.S. threw rocks at Mexican authorities. They captioned it: "Please Watch and Make your Deductions".
Samantha Power, who served as ambassador to the United Nations under President Barack Obama, tweeted an image of the now-deleted Twitter post by the Nigerian military.
The Nigerian army has again justified its killing of some members of the Islamic Movement in Nigeria (IMN) better known as Shi'ites, describing a stone as a weapon. "This pattern clearly shows soldiers and police approached IMN processions not to restore public order, but to kill", said Osai Ojigho, director of Amnesty International Nigeria, using the initials for the Shiite protesters.
A spokesman for the Nigerian army told the BBC "this is what Trump was talking about", and said their decision to fire live rounds at protesters was justified because they were armed.
"Video footage and eyewitness testimonies consistently show that the Nigerian military dispersed peaceful gatherings by firing live ammunition without warning, in clear violation of Nigerian and worldwide law", said Osai Ojigho, Director of Amnesty global Nigeria. "When they throw rocks like what they did to the Mexican military and police I say consider it a rifle". "We're not going to put with that", the president said in the video. "What are they then saying?"
Agim said if David could kill Goliath with a stone, stones should be considered as weapons.
"It seems the Nigerian military are deliberately using tactics created to kill when dealing with IMN gatherings".
Members of IMN have been demanding the release of their leader, Ibraheem Zakzaky, who has been in custody for 34 months, the BBC reports. Videos of the confrontations show the military opening fire as protesters hurl rocks, and shooting numerous fleeing demonstrators in the back, The New York Times reported.
The most populous country is nearly equally divided with Sunni Muslims in the north and Christians in the south. Shia Muslims, however, are an often persecuted religious minority.
Mr Trump is often seen and heard starting "CNN Sucks" chants at his rallies.
Because they are throwing rocks viciously and violently, you saw that three days ago, really hurting the military. "Trump's brand of rough-and-tumble verbal pummelling heightened the rhetorical stakes for people of all political persuasions".