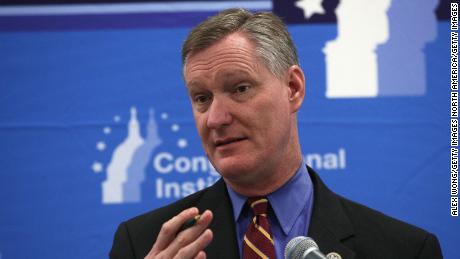 Officials at the National Republican Congressional Committee (NRCC), which campaigns on behalf of House GOP members, said the organization had been hacked during the 2018 midterms.
In a statement to ABC News, a spokesperson for the NRCC confirmed the report, writing that "it was the victim of a cyber intrusion by an unknown entity".
Prior added: "To protect the integrity of that investigation, the NRCC will offer no further comment on the incident".
But according to Politico, the mysterious attackers were snooping around the email accounts of four NRCC senior aides for several months.
Republican leaders, including Speaker Paul Ryan and House Majority Leader Kevin McCarthy, reportedly didn't know about the intrusion until Politico inquired about it Monday.
Rep. Steve Stivers (R-Ohio), who served as NRCC chairman this past election cycle, did not respond to Politico's requests for comment.
Politico said party officials privately believe the hacker was a foreign agent, due to the nature of the attack.
Though the Federal Bureau of Investigation was alerted to the attack, the Republican leadership only found out when Politico contacted them with questions on Monday. Politically motivated cyberespionage is commonplace across the world, but Americans have become particularly alert to the possibility of digital interference following the 2016 election.
Politico revealed that the security breach was detected in April and the NRCC was promptly alerted.
President Trump has bashed Democrats when they were hacked during the 2016 presidential campaign, claiming the Democratic National Committee was "poorly defended". The emails were obtained after Hillary Clinton's campaign chair John Podesta fell for a phishing scam and were posted by Wikileaks.
In October, the Justice Department unsealed criminal charges detailing a yearslong effort by a Russian troll farm to "sow division and discord in the US political system" by creating thousands of false social media profiles and email accounts that appeared to be from people inside the United States.