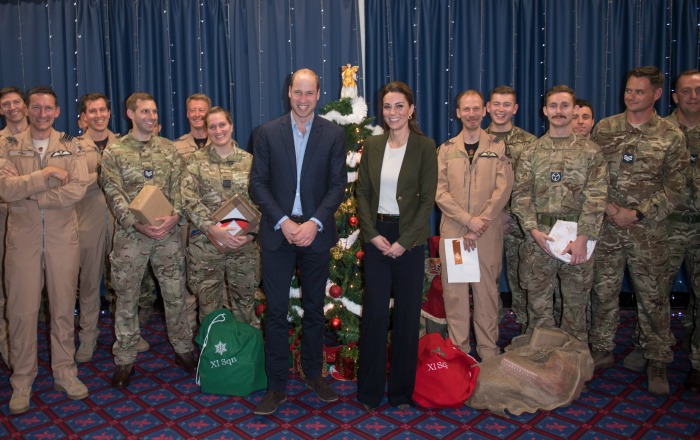 Both William and Kate looked to be in high spirits as they met with service personnel, delivering them presents from their families back at home.
"Not only are we grateful for you coming here to join our party, but also for the sacrifices you make on a daily basis on behalf of the nation".
She said: 'But I can't imagine how it feels when your loved ones are away on active service over Christmas or at those special family moments.
"The absence of people you love must be especially hard at this time of year", Kate continued.
The proud parents chatted happily about their children, with William telling pilots: 'I told George this morning we were going to see the pilots today, and he said "If you see a helicopter can you take a picture?"'
At the event, William gave a rousing speech to the troops, saying, "We know this isn't easy for you or your wives, husbands, children and friends back in the United Kingdom but on behalf of everyone at home, we'd like to say a big thank you".
The event, in partnership with the Royal British Legion charity, was held just steps from where Wills and Kate live with Prince George, 5, Princess Charlotte, 3, and Prince Louis, 7 months.
It looks like the youngest royals are growing up fast - at least based on a discovery made during a visit by Prince William and Kate Middleton to the RAF Akrotiri in Cyprus on Wednesday.
'Kate was asking Harry where his mummy and daddy were and she said to me it's quite a commitment but it was great for the family to have us pulling everything together.
According to the palace, they outlined this year's festivities writing that William and Kate will have "two engagements in London and in Cyprus in support of deployed military personnel and their families who will be apart over the festive period".
Her husband said: "We see our main function as giving my daughter and her husband peace of mind".
William and Kate will bring presents and messages to the troops in Cyprus from the families they met in the UK.