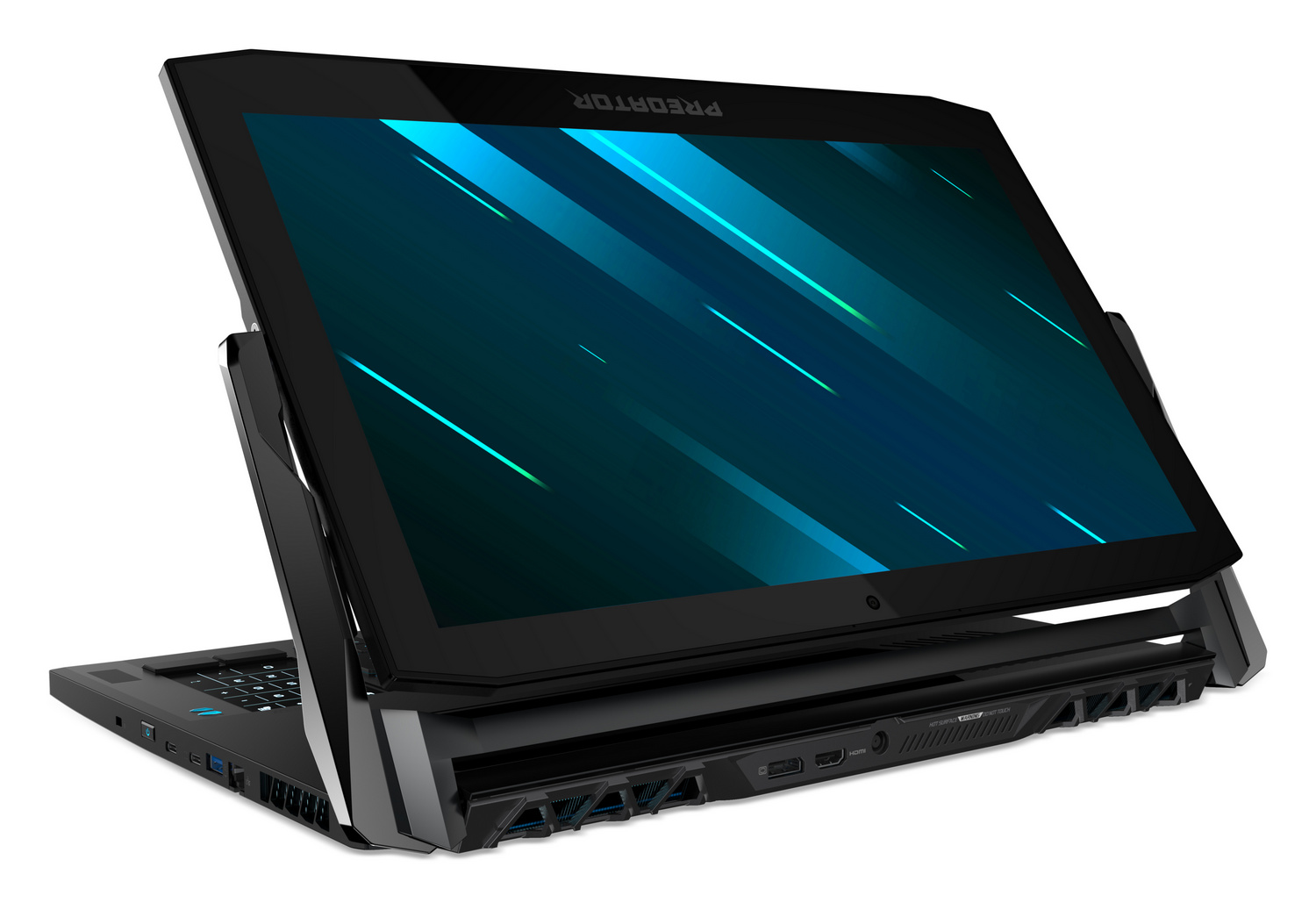 Acer revealed two new laptops in its Predator line-up at CES 2019: the Predator Triton 500 and the Predator Triton 900. It offers four different ways to use the laptop.
It is a convertible gaming notebook that features a CNC-machined Ezel Aero Hinge.
Following a quick sneak peek at IFA in August, Acer has introduced two new models in its premium-meets-portable line of Predator Triton gaming laptops. The Predator Triton 900 is a gaming notebook convertible, and the Acer Chromebook 315 is the first ever Chromebook from the Acer stable equipped with an AMD processor. It has a flipping screen and offers better ergonomics.
Unfortunately, as impressive as the machine's construction and hardware specifications are, the Acer Predator Triton 900 comes with a hefty price.
While gamers will obviously be interested in what's inside the Predator Triton 900, its most arresting feature can be found on the outside. The company designed an "Ezel Areo Hinge" that's attached to the 4K 17-inch display of the Triton 900. Otherwise, the specs are very much what you'd expect from a modern gaming laptop, with 8th generation Intel i7 chips, 16GB of base memory (with the option of going up to 32GB) and up to a terabyte of NVMe-based storage. Though the 2080 Max-Q likely won't be as powerful as a standard RTX 2080 due to its focus on energy efficiency, it still should be a more than capable graphics card for laptop gaming. The Predator Triton 900 is easily adjusted to be a tablet or a traditional laptop.
The screen also has G-sync support to prevent screen tearing in games. Acer intends to release a smartphone app that it is calling PredatorSense later this year, which will make it possible for you to adjust the lights, audio, and fans on the system.
The Predator Triton 900 will be available in North America in March with prices starting at US$3,999; in EMEA in March, with prices starting at €4,199, and in China in March, with prices starting at ¥39,999. Able to standby up to 8 hours of battery life, it sports up to 8th Gen Intel Core i7 processors, NVMe PCIe RAID 0 SSDs, and up to 32GB DDR4 memory.