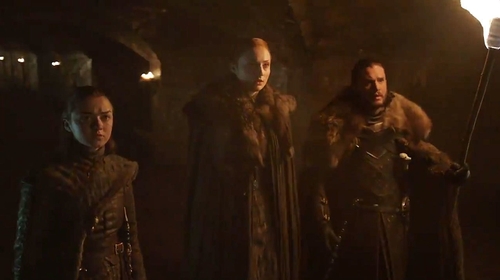 HBO released another series eight teaser, entitled Crypts of Winterfell, alongside the official release date for Game Of Thrones on Sunday night and the fandom was shook. Therefore making it clear what lies ahead of the now surviving clan of the Starks, the showrunners of Game of Thrones have blown up the anxiety bugle for the fans of the show.
It also included a quick teaser from the upcoming show, which fans have no doubt been eagerly awaiting.
The three statues speak to Jon.
.
It's interesting to note that Bran Stark is not present among the siblings in this promo, nor is his voice heard among those passed in the crypts.
Fans will no doubt be looking forward to the reunion of Arya Stark and Jon Snow, who haven't seen each other since the first season.
The showrunners have kept plot points close to their chest, but the most recent teaser reveals Daenerys (Emilia Clarke) meeting Sansa Stark (Sophie Turner) for the first time in the show's run.
At the end of the clip, Sansa Stark, Area Stark, and Jon Snow all converge at the end of the tomb, where they come face to face with statues of themselves.
GoT Season 8 will only be six episodes total, but each episode is touted to be supersized, maybe even as long as an entire feature film. Luckily, the wait is nearly over since we now know the premiere date of the eighth and final season!