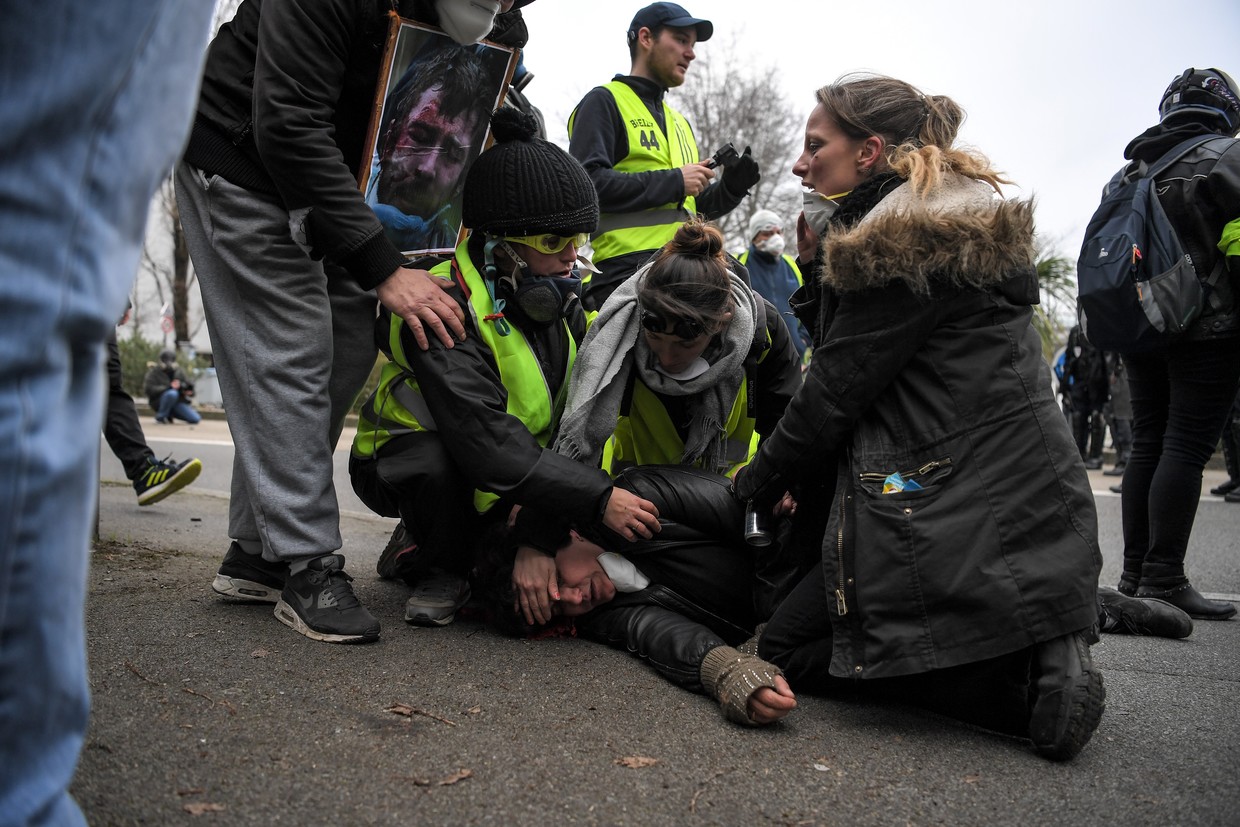 Government spokesman Benjamin Griveaux, who was evacuated from his ministry in central Paris when a handful of protesters in high-visibility vests smashed down the large wooden door to the ministry compound, denounced the break-in as an "unacceptable attack on the Republic".
A protester in a wheelchair watches as another protester clashes with riot police during a demonstration of the "yellow vests" movement in Nantes, France, Jan. 5, 2019. Some 282,000 protesters showed up for the initial rally on November 17.
"All the media ever reports is the violence, and we are forgetting the root of the problem" which is the fight against austerity, one protester named Karen, a 42-year-old nurse, told Agence France Presse on the streets of Marseilles.
The French authorities' struggle to maintain order during the weekend protests raises questions not just over policing tactics but also over how Macron responds, as he prepares to bring in stricter rules for unemployment benefits and cut thousands of public sector jobs.
They have morphed from dissent over rising gas prices and eco-taxes into a broader demonstration against President Emmanuel Macron and his government, and tensions between the metropolitan elite and rural poor.
In Paris, the street marches began peacefully but degenerated when some protesters threw punches at baton-wielding officers, torched electric scooters and garbage bins along the Left Bank's upscale Boulevard Saint Germain and set cars ablaze near the Champs Elysees.
Griveaux had earlier criticised the yellow vest movement, describing those involved as "agitators" who sought "to overthrow the government".
In Paris, 3,500 people participated in protests on Saturday, much higher than the 800 who took to the streets last week, police said.
Police on Wednesday night arrested one of the movement's prominent figures.
Faced with record low popularity ratings, Macron is expected soon to set out his plans for the coming months. According to polls, approximately 55 percent of the French public now support the protests, though that is a smaller number compared to the 75 percent who registered approval in November when the movement began.
Their numbers have fallen since Macron announced concessions in mid-December that included hiking the minimum wage and canceling a planned fuel tax increase that had sparked the first protests in November.
Former cinema icon Brigitte Bardot, who is known today for her rightwing views and animal rights activism, on Sunday said she understood what motivated the yellow vest movement.