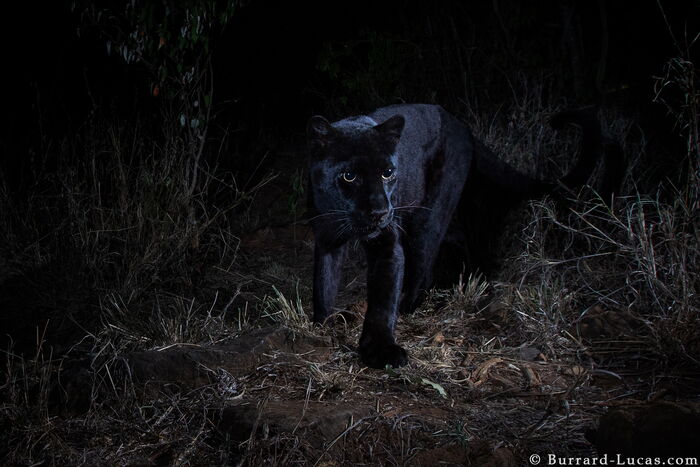 And biologists have rare footage of the sleek black leopard walking majestically in Kenya - the first time the animal has been photographed in Africa since 1909.
The rare melanistic black leopard was photographed by wildlife photographer Will Burrard-Lucas who later posted the pictures on his website. However, as news of his find quickly spread across the continent, folks at the Ol Ari Nyiro Conservancy, about 30 miles west of Loisaba, produced their own photo of a black leopard, taken in 2007.
The black leopard, known as a black panther in Africa and Asia, is a secretive and elusive creature.
"In Africa, black leopards are incredibly rare and until now, the only images of them have been fleeting shots taken from great distance or graining images from low-quality trail cameras".
Working in collaboration with biologists from San Diego Zoo in the area, Burrard-Lucas went about installing camera traps in a well-protected area where the black leopard was rumoured to frequent.
A black leopard raised in captivity at the The Rhino and Lion Nature Reserve in Johannesburg.
"Collectively these are the first confirmed images in almost 100 years of black leopard in Africa, and this region is the only known spot in all of Africa to have black leopard".
Will heard rumours of a black panther - which is a loose term for a black leopard or black jaguar, depending where in the world it's from - at the Laikipia Wilderness Camp in Kenya.
The leopard - which is also referred to as a black panther - derives its dark coat from melanism, the opposite of albinism.
In a video documenting his photography expedition, Burrard-Lucas filmed himself going to check the camera.
Burrard-Lucas used a Camtraptions Camera Trap that included wireless motion sensors, which pick up animals movements in the dark.
"Usually on these camera trap photos with the flash you see the animal very clearly".
Perhaps you're like me, and the first thing you thought when you saw the pics was, 'How the shit did he get that close to it?' Well, wonder no more.
He said he left his cameras outside for several nights.
The photographer said: "I took the photos last month and believe the Black Panther, in this case a melanistic African leopard, is around two years old. Just the most stunning, spectacular creature I think I've ever photographed!" An April 2017 study found an overall incidence of melanism of 11 percent among leopards, but noted that different habitats showed different frequencies of melanism.