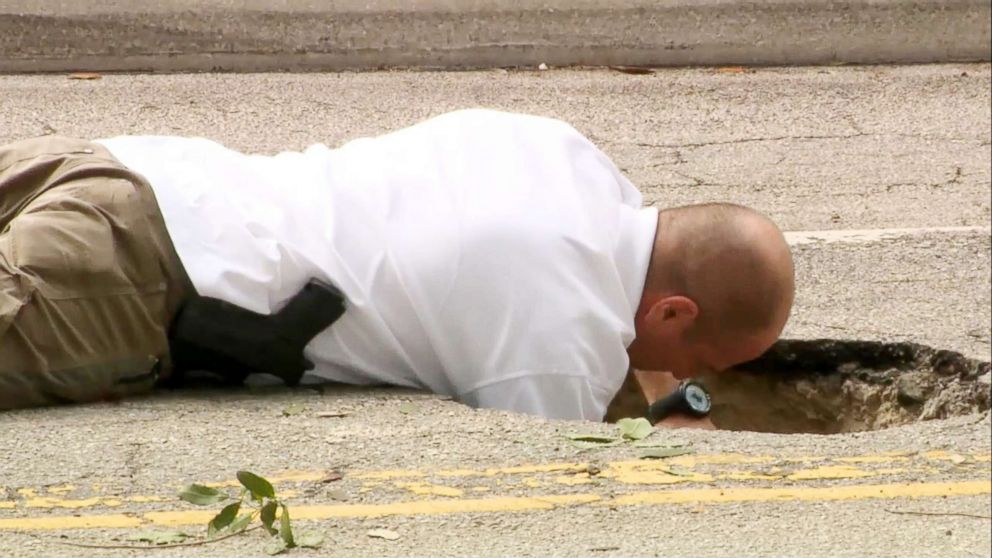 The FBI is investigating the discovery of an underground tunnel, which appears to lead to a bank in Pembroke Pines.
(Taimy Alvarez/South Florida Sun Sentinel) The drive-through ATM at the Chase Bank in Pembroke Pines can be seen on the other side of S. Flamingo Road, with the tunnel entrance about 150 feet away.
After public works saw in the hole an orange extension cord - the simple kind you might pick up at a grocery or hardware store - they alerted Pembroke Pines police who, in turn, called out the Federal Bureau of Investigation because of the hole's proximity to the Chase bank.
The crew found a power cord in the hole running into a nearby wooded area.
There was no robbery at the bank and no arrests have been made. "They were headed towards the bank, that's for sure", he said.
"This was not an overnight thing", says FBI Special Agent Michael Leverock, who adds that the "unique" scene looked like something out of a movie.
'We did not find a body in the hole, ' Leverock said.
There was a pair of muddy boots, a small homemade ladder, a stool, digging tools and a small Honda generator inside the almost 50 foot tunnel, according to WPLG. "These people were using pickaxes and a small little wagon", Leverock said.
Pembroke Pines is about 20 miles (32km) south-west of Fort Lauderdale.
Leverock said rain over the past few days may have contributed to the collapse of it.
"If somebody's been bragging about this, somebody's seen this wagon, seen a generator and some folks who are talking about a tunnel, certainly give us a call", Leverock said.
Police cut the fence line and found the tunnel's entrance covered by a wooden pallet, CNN affiliate WPLG reported.