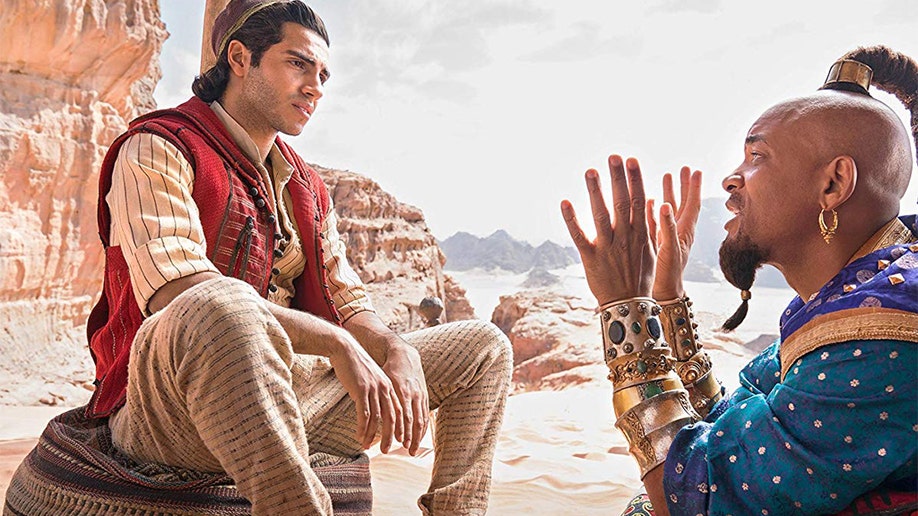 Aladdin then enters the cave to retrieve the lamp, and releases Genie into our view.
Remember when Disney released photos of their live-action "Aladdin" remake with actor Will Smith as a Genie, and fans hated that he wasn't blue?
While some people took to Twitter in awe of Smith's look as the Genie, others felt a bit less positive about the casting. And we'll get to see for ourselves if this is another smash hit for the Mouse House when the film shows viewers a whole new world on May 24th. Could Will Smith end up providing a performance just as good as the original?
But the best bit comes right at the end as Aladdin, with Apu and a pixel-perfect CGI Magic Carpet right behind, rubs the magic lamp for the first time, unveiling the big handsome blue Smith.
A thrilling and vibrant live-action adaptation of Disney's animated classic, "Aladdin" is the exciting tale of the charming street rat Aladdin, the courageous and self-determined Princess Jasmine and the Genie who may be the key to their future. Jafar asks Aladdin to bring him the lamp.
"I told y'all I was gon' be Blue!"
Aladdin is being directed by Guy Ritchie, and features Mena Massoud as Aladdin, Naomi Scott as Jasmine and, obviously, Smith as Genie.