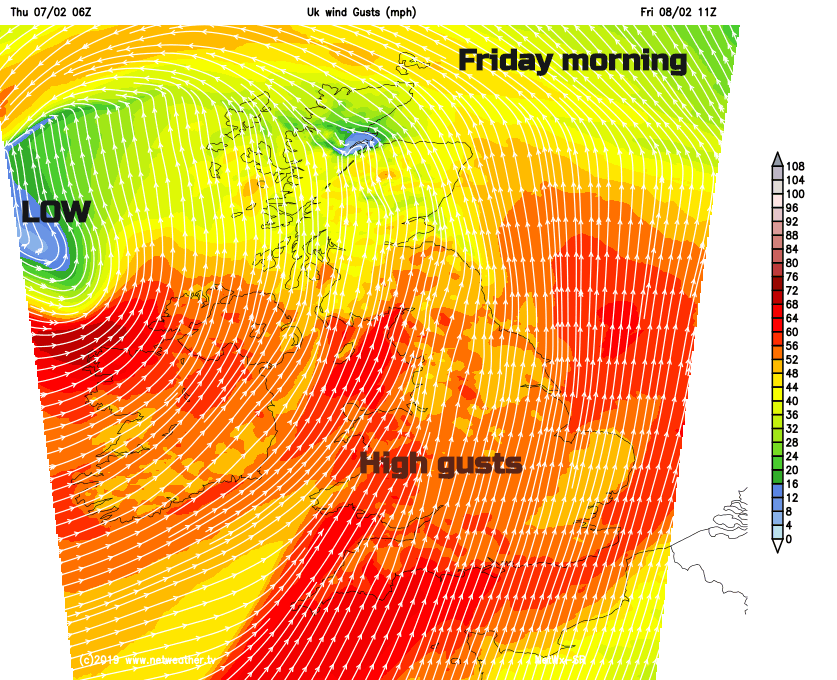 Snow, rain and wind are set to continue to batter the United Kingdom this weekend as Storm Erik rages on through Saturday.
The warning for heavy rain is in place over the western and Highlands areas up until Saturday afternoon.
The Met Office said exposed coastlines and hills - including in the East of England - could experience gusts of up to 70mph.
'Sunny spells for many of us, also a mixture of rain and showers in other parts of the UK.
'And it will be a touch colder than it has been on recent mornings.
However, it is thought the storm will largely clear on Sunday with conditions becoming more settled as the week progresses - but there could still be outbreaks of rain.
Later, however, the clouds will move towards Scandinavia with exception of the south.
'Elsewhere lots of sunshine on offer, a few showers across parts of England and Wales, but these will be few and far between.
"The low pressure area was deepening rapidly as it approached the north west of Ireland and north-west Scotland on Friday morning".
'This will bring in strong to gale force winds and also some locally heavy rain at times as well, now that continues to make its way further south-east overnight.
"Because of the cold air, this could fall as snow on higher ground in Scotland and England on Sunday".
Storm Erik pulled over Sarah Tonkes-Griggs' trampoline in Beccles.
On Saturday a kitesurfer died amid strong winds in an incident on the Saunton Sands beach in north Devon, although a spokesman for Devon and Cornwall Police would not confirm whether the death was weather-related.
A yellow weather warning has been issued Norfolk this weekend, with gusts of up to 55mph potentially hitting parts of the region.
A statement on the Met Office website said: "A swathe of very strong westerly winds is expected to push across Northern Ireland, southern Scotland and northern England through Saturday, easing from the west during the day".