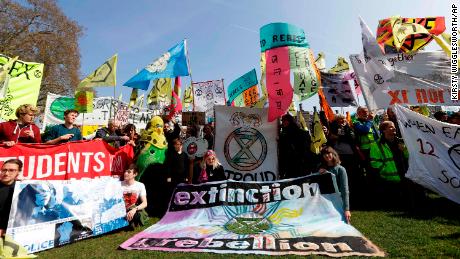 Some activists also glued themselves to windows.
Norwich members of environmental group Extinction Rebellion stopped traffic in London today as part of worldwide climate change protests. Extinction Rebellion have organised a nationwide week of action, they are calling for a full-scale Rebellion to demand decisive action from governments on climate change and ecological collapse.
Protesters parked a pink boat in the middle of Oxford Street - one of Europe's busiest streets - as a flag bearing the symbol of the organisers, Extinction Rebellion, was raised.
Demonstrators hold a banner during a climate protest in Parliament Square in London, Monday, April 15, 2019.
These are central London landmarks protesters are targeting as part of efforts to demand the Government declares a climate emergency.
Extinction Rebellion said: "The global rebellion begins and Extinction Rebellion will be bringing London to a standstill for up to two weeks".
The activists are also planning road blocks at Marble Arch, Oxford...
The scientist said the group was calling on the United Kingdom government to fulfil three demands: to better inform the public about climate change, to make the country carbon neutral by 2025 and to create a citizens assembly model on environmental issues.
"We are still in this position, and still facing this crisis", she said.
"They can change a few of the laws along with the Paris agreement so that we can really work towards achieving a practical target".
"Trials that result from acts of criminal damage provide an opportunity to tell the courts that without an urgent and radical change of course, the consequences for humanity and life on earth are likely to be catastrophic". "If we don't do anything to change this, our children will die".
Extinction Rebellion said protests would continue throughout the week "escalating the creative disruption across the capital day by day".
But police made no arrests overnight, after earlier explaining their operational response to camping "would be dependent on if any other issues might be ongoing at the time".