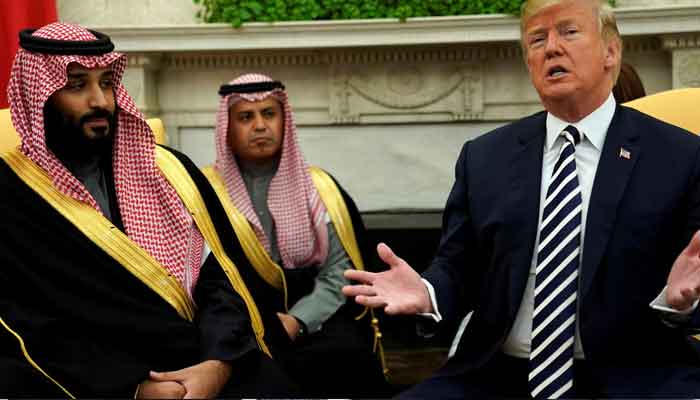 "The Yemen War Powers Resolution was a bipartisan, bicameral effort to end the world's largest humanitarian crisis and supported by some of the president's most trusted Republican allies", Khanna said.
Trump's veto came as no surprise.
Yemen's civil war pits the Saudi-led coalition against Houthi rebels backed by Iran. Trump had vowed to veto the bill despite appeals by congressmen to send a strong message to Riyadh.
It is only the second time Mr Trump has used his presidential veto since he took office in 2017.
President Trump with Crown Prince Mohammed bin Salman previous year. Members of Congress have expressed concern about the thousands of civilians killed in coalition airstrikes since the conflict began.
Lawmakers criticized the president for not condemning the country for the killing of Jamal Khashoggi, a Saudi journalist who lived in the United States and had written critically about the kingdom. "Doing so would interfere with the President's constitutional authority as Commander in Chief of the Armed Forces, and could endanger our service members by impairing their ability to efficiently and effectively conduct military engagements and to withdraw in an orderly manner at the appropriate time".
In his statement announcing the veto, Trump defended the USA involvement, arguing that "it is our duty to protect the safety of the more than 80,000 Americans who reside in certain coalition countries that have been subject to Houthi attacks from Yemen".
The measure had passed the House on a 247-to-175 vote this month and was approved by the Senate last month with the support of seven Republicans.
"In addition, the conflict in Yemen represents a "cheap" and affordable way for Iran to cause trouble for the United States and for our ally, Saudi Arabia", Mr. Trump said.
House Speaker Nancy Pelosi denounced Trump's veto, saying it would serve to "perpetuate America's shameful involvement in this heartbreaking crisis". "The House of Representatives calls on the President to put peace before politics, and work with us to advance an enduring solution to end this crisis and save lives".
The president issued his first veto of legislation out of Congress in March when they voted to block his declaration of a national emergency on the border.
Sen. Tim Kaine, D-Va., a member of the Senate Foreign Relations Committee, said in a statement that the veto was "part of an alarming pattern of Trump turning a blind eye to Saudi Arabia's actions that fly in the face of American values" and accused the administration of "deference to Saudi Arabia at the expense of American security interests".
Critics of the Saudi-led bombing campaign in Yemen say the situation in the country is only getting worse.