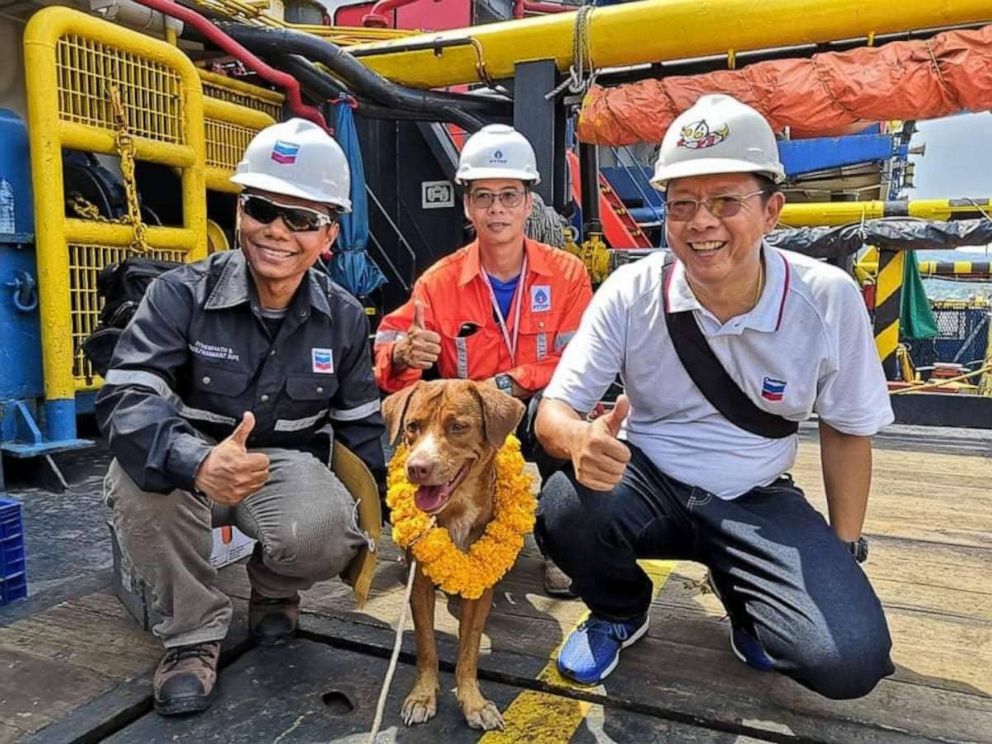 A dog that ended up stranded in the middle of the Gulf of Thailand, paddling some 130 miles away from shore may soon have a home after being rescued by oil rig workers on Friday.
According to reports, the dog is believed to have fallen from a fishing trawler and was rescued by members of Chevron Thailand Exploration and Production's oil drilling team, who used a rope to harness the dog. "But if the ripples were bigger, I think we probably wouldn't have noticed her at all".
The conditions were said to have been calm during the rescue, which workers said made it easier to spot Boonrod among the rusty metal bars of the rig.
The oil rig workers said they spotted the dog struggling in the water and called out to her, causing her to swim up to the equipment.
The dog stayed on the drilling platform for two nights while a special cage was welded together and staff gave it food and water.
The video was posted Khon Vitisak, who rescued the animal and now hopes to adopt it-if no one steps forward to claim the brown Aspin.
"When we first took her on board she was depressed and exhausted from being in the water for a long time". She was taken to vets in Songkhla today and was deemed healthy.
Oil rig workers and animal charities are baffled as to how she came to be swimming so far from shore.
'When he gave her water and minerals her symptoms improved. "She started sitting up and walking normally", he added.
The shivering animal then managed to cling to a pole on the platform and could be seen looking up as workers on the oil rig devised a rescue plan. It is unknown whether the dog swam the astonishing distance from the shore, or jumped off a boat at sea.