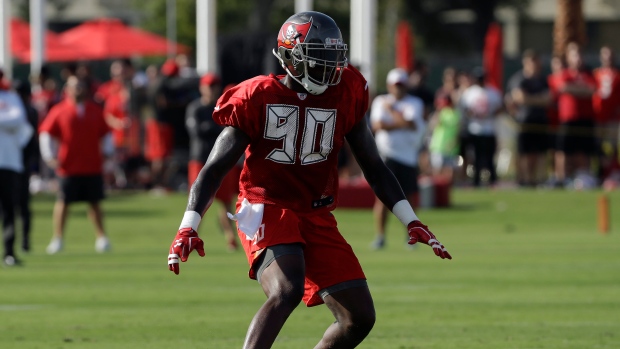 Pierre-Paul, 30, will likely need surgery, a source told Schefter.
The Buccaneers defensive end is said to have "suffered a potential season-ending fractured neck injury" in the single-car crash last week, according to ESPN's Adam Schefter, citing league sources.
This off of the heels of the 2019 NFL Draft, where the Buccaneers opted for Louisiana State linebacker Devin White over Kentucky pass rusher Josh Allen.
Pierre-Paul was rushed to the hospital after crashing his SUV in Broward County, Florida, but was reported to have left the hospital shortly thereafter.
Talk about dejavu for Tampa Bay; last year it was linebacker Kendell Beckwith who suffered a serious ankle injury in a auto accident and still has not returned to the field, this year it is their leading sack leader from a year ago in Pierre-Paul.
It's not the first time Pierre-Paul has had an off-field mishap.
In a statement on the day of the accident, Buccaneers' general manager Jason Licht said that Pierre-Paul had been evaluated at a hospital and released.
"Our immediate concern is for the safety and well-being of Jason and his passenger".
Pierre-Paul, who had 12.5 sacks for the Bucs last season, was infamously involved in another major accident when he lost multiple fingers on his right hand after an incident involving fireworks when he was a member of the New York Giants.
Pierre-Paul has not attended any of the Buccaneers' voluntary workouts under new coach Bruce Arians.