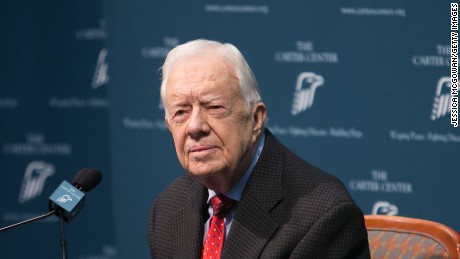 President Jimmy Carter fell at his Plains, Georgia home Monday morning while preparing for a turkey hunt, according to a release from The Carter Center.
Carter, 94, was said to be "recovering comfortably" at the Phoebe Sumter Medical Center in Americus, Georgia.
The release said Carter's main concern is he hasn't reached his limit on turkeys with the season coming to a close May 15. His surgeon stated that the surgery was successful. His wife, Rosalynn, has been with him.
Carter is the longest-retired president in US history, and in 2017 became the first president to live to the 40th anniversary of his inauguration. He hopes the State of Georgia will allow him to rollover his unused limit to next year.
In August 2015, Carter announced that doctors had found melanoma in his brain and liver.
He received his first radiation treatment at age 90, and four months later, he was - remarkably - cancer free.
"I've had a wonderful life", he said at the time he revealed the cancer.
Carter's legacy since leaving office has long overshadowed his rocky White House tenure, where he lost after one term amid a hostage crisis. "I've had an exciting and adventurous and gratifying existence".
Carter also continues to teach Sunday school lessons Maranatha Baptist Church in Plains.