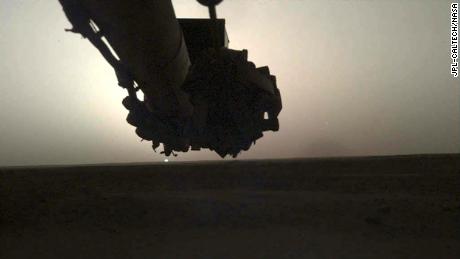 As NASA explains, the photo was captured one early evening in late April: NASA's InSight lander used the Instrument Deployment Camera (IDC) on the end of its robotic arm to image this sunset on Mars on April 25, 2019, the 145th Martian day, or sol, of the mission. NASA says that the images were taken at 5:30 a.m. and then at 6:30 p.m.in local Mars time.
NASA's InSight used its Instrument Context Camera (ICC) beneath the lander's deck to image these drifting clouds at sunset.
Scientists have likely detected a so-called marsquake - an natural disaster on Mars - for the first time, NASA announced on Tuesday.
These images are available as both "raw" and color-corrected versions.
NASA's InSight lander captured a series of sunrise and sunset images. Another camera found on the deck captured the movements of the clouds during the sunset. Since Viking took those first images, sunrises and sunsets have been recorded by the Spirit, Opportunity, and Curiosity rovers among other missions.
A camera on the spacecraft's robotic arm snapped the photos on April 24th and 25th, the 145th Martian day, or sol, of the mission.
It's a much tinier bright dot compared to the sun as seen from Earth's 93 million miles away, about 2/3 the size visually, according to NASA.
The shots were taken on the 145th Martian day of InSight's mission. The first NASA spacecraft to capture sunrise and sunset from another planet was the Viking 1 lander. When NASA launched it on May 5, 2018, the lander will be the agency's tool in understanding the deeper and rockier parts of the planet, which are the mantle, core, and crust. NASA chose to snap the photos of the sunrise and sunset as it is a tradition and its primary imaging tasks were complete.
InSight took some prepared for the extraterrestrial photoshoot by taking some shots in March. With the data from these instruments, and from a radio-science experiment conducted using InSight's communications gear, the mission should be able to map Mars' interior in unprecedented detail, NASA officials have said.
The Mars InSight, which launched from Vandenburg Air Force Base in California, arrived on the Red Planet last November. On Aug. 21, 1976, the lander took a photo of the sunset from Martian soil, and its successor, Viking 2, captured a sunrise two years later.