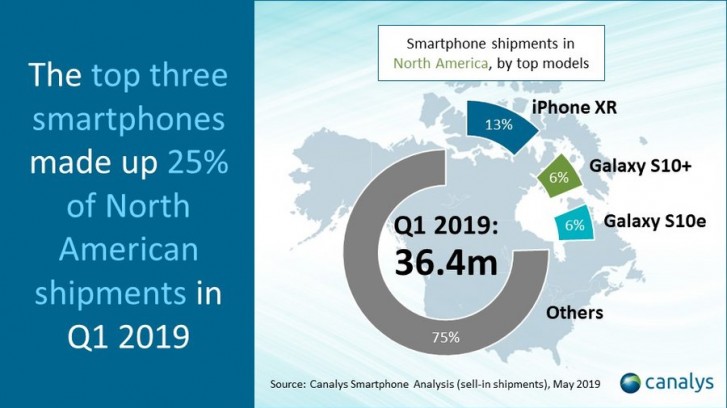 Per a new report from analytics firm Canalys, the North American smartphone market reached a five-year low during the first quarter of 2019.
Apple shipped 14.6 million iPhones in Q1 2019, down 19%, but maintained a 40% share of the North American market.
The drop from a record high of 44.4 million in Q1 2018 is due to poor performance by Apple and the absence of ZTE from China, according to a Canalys research. In spite of the year-over-year drop for Apple, in North America it was still acquire 40 percent market share. With 4.5 million shipments the iPhone XR is the leader though, accounting for 13% of all sales in Q1 2019. While on the other side Apple rival Samsung smartphone shipments increase 3 percent year-over-year, whereas LG shipments was down by 24 percent. Samsung, for example, has managed to grow its market share from 23.2% in the year-ago quarter to 29.3%, but because the market fell, that was accomplished with a sales growth of just 3% - from 10.3 million units last year in Q1 to 10.7 million between January and March of 2019.
Sales of Apple's iPhone have been down this year over the previous year, Apple has not revealed how many handsets they have sold. "Apple has shown how vital trade-ins have become by moving the mechanism to the front and center of its ordering process, and it now frequently uses the net price in its flagship iPhone marketing".
Of course, it takes more than rescheduling the launch date of a handset to make it successful and per Canalys, the reason why the Galaxy S10 devices performed better than their predecessors in the North American market is that they became one of the first phones to bring a plenty of new features to the US, such as reverse wireless charging, pin-hole display, and ultra-wide angle lens. In North America Lenovo secure 6.5 percent market share, whereas TCL came in at 4.0 percent market share.