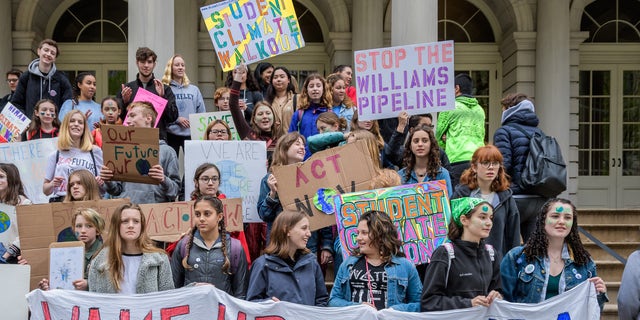 People are putting nature in more trouble now than at any other time in human history, with extinction looming over 1 million species of plants and animals, scientists said Monday.
Only a wide-ranging transformation of the global economic and financial system could pull ecosystems that are vital to the future of human communities worldwide back from the brink of collapse, concluded the report, which was endorsed by 130 countries, including the U.S., Russian Federation and China.
The report, conducted by the Intergovernmental Science-Policy Platform on Biodiversity and Ecosystem Services (IPBES), was compiled by 145 expert authors from 50 countries over the past three years, with input from another 310 contributing authors, according to a United Nations press release.
Up to 1 million plant and animal species are threatened with extinction within decades.
"The health of ecosystems on which we and all other species depend is deteriorating more rapidly than ever, " Watson said.
In the same way that the IPCC report put the climate crisis on the political agenda, the authors of the IPBES report hope that it will thrust nature loss into the global spotlight.
People can build expensive time-consuming sea walls to fight the rise of oceans from climate change or the same protection can be offered by coastal mangroves, the report said. In addition, the human population has doubled in the last 50 years, creating more demand for energy and resources.
Humans have significantly altered 75% of the land and 66% of marine environments.
Five times in the past, Earth has undergone mass extinctions where much of life on Earth blinked out, like the one that killed the dinosaurs.
When the meeting started, UNESCO Director-General Audrey Azoulay told negotiators the report will force the world to face the dramatic degradation of biodiversity and come up with solutions.
In 2015, a third of marine stocks were being fished at unsustainable levels and the amount of raw timber being harvested has increased by nearly half since 1970, with up to 15% of it cut illegally, according to the report.
The report also said plastic pollution has increased tenfold since 1980. These areas are so starved of oxygen they can barely support marine life.
Diaz said that governments should implement drastic changes now to avoid a "dire future" in 10-20 years when their "food and climate security [is] in jeopardy". "And they clearly help to protect land from severe weather events and storm surges from the sea". Other suggestions include reforming supply chains and reducing food waste. The report said pollinator loss could cost the world $US285 billion to $US577 billion a year.
"You destroy nature and it's going to bite you back", Duke University's Stuart Pimm said, pointing to how hard it has been for China to recover from decades of forest loss. "We are in danger of losing vital ecosystem services which will have major negative consequences for human civilization", she said. Many mangrove defences have been lost, and that affects us directly. "Now is the time to act, not halfheartedly and incrementally but drastically and boldly".
IPBES said the report will hopefully influence and motivate key decision and policymakers around the world. If this lofty vision sounds impossible on the surface, the report suggests policy that brings it back down to earth, such as working biodiversity measures into existing global frameworks like the Paris Climate Accord.