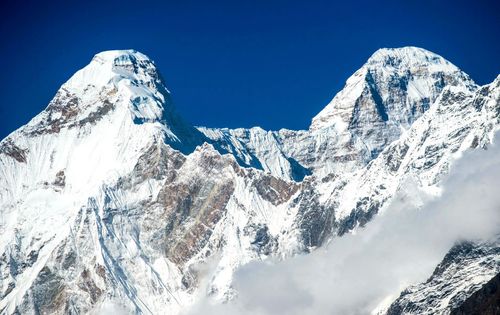 The bodies of seven climbers killed on India's second-highest mountain were retrieved Sunday, capping a almost month-long search by mountaineering experts in treacherous Himalayan terrain.
The main group - led by experienced British mountaineer Martin Moran - had permission only to climb the eastern peak of Nanda Devi, according to Indian authorities.
A 10-member ITBP team of climbers dug out the seven bodies, including a woman mountaineer, which were buried under the snow on the western ridge of the peak towards the Pindari glacier, said Deputy Inspector General (Kumaon range) A P S Nimbadia.
Ground expeditions by the Indian paramilitary forces and the Indian Mountaineering Foundation were launched after helicopter missions failed to reach the area because of bad weather.
Officials said bad weather is delaying the recovery of the bodies of worldwide climbers who went missing while attempting to scale an unclimbed Himalayan peak in northern India.
On June 3, a helicopter spotted five bodies and climbing equipment in the snow, at a height of about 5,000 meters but attempts to drop troops by air to retrieve them were aborted due to the risks.
Sydney woman Ruth McCance went missing in the Himalayas.
The search for the final member of the group of four Britons, two Americans, one Australian and their Indian guide was set to continue in harsh conditions, said Indo-Tibetan Border Police spokesman Vivek Kumar Pandey.
Jogdande said it would take search teams three days to return the bodies, which have yet to be identified, to base camp.
Moran's Scotland-based company, Moran Mountain, said that it's last communication with the team was on May 24.
'As a family, we share the same emotions that all next of kin are experiencing in not knowing the whereabouts or well-being of those closest to us'.
They had left Munsiyari on May 13 to scale the peak but did not return to the base camp on the appointed date of May 25.
Academic Richard Payne, from the University of York, is believed to be among the group of missing climbers. Jogdande said at that time that the "chances of survival are nearly zero now".
Four men have been rescued from the mountain.
Climber Nigel Vardy, who has known Mr Moran for 20 years, previously described him as "an absolute professional and genuinely a really, really nice guy".