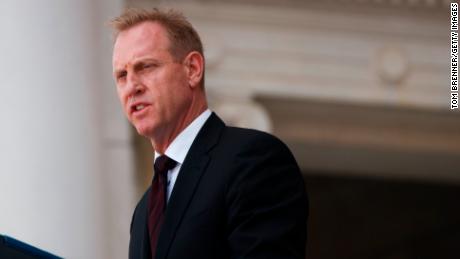 Acting Defense Secretary Patrick Shanahan has withdrawn from consideration to head the Pentagon, President Donald Trump has said, announcing that the current Secretary of the Army Mark Esper will become the new acting secretary.
On Tuesday, USA Today reported that the Federal Bureau of Investigation had been probing a violent 2010 domestic dispute involving Shanahan and his then-wife, who now goes by the name Kimberley Jordinson, as part of its background check.
"The confirmation process should focus on securing our nation against threats, readiness and the future of our military, and ensuring the highest quality care and support for service members and their families", Shanahan said in a separate statement.
Shanahan appeared to downplay concerns about his candidacy last week. "I wish nothing but the best for her and regret that my children's privacy has been violated and they are being forced to relive a tragic situation that we have worked so hard as a family to put behind us". Ultimately, their safety and well-being is my highest priority.
"I'm in contact with the White House". Shanahan denied the allegations.
Shanahan and Jordinson stood by their respective accounts when USA Today reached out for comment, but they also got a statement from their son, William Shanahan, who witnessed the incident.
Shanahan defended his son in the aftermath of the attack, writing in a memo that his son had acted in self-defense, according to The Post. Shanahan told the paper this week that resurfacing the incident "will ruin my son's life", while backing away from his original self-defense claim.
The Washington Post published an interview with Shanahan shortly after Mr. Trump tweeted that he was withdrawing his name.
But the decision, which Trump said owed to Shanahan's desire to spend more time with his family, promises to prolong what has already been the longest period without a confirmed secretary of defense.
"I know Mark, and have no doubt he will do a fantastic job!", Trump tweeted. He's a 1986 graduate of West Point who served in the infantry for more than 10 years, including the Gulf War in 1991.
Shanahan stepped in as acting secretary in January, after the retirement of former Defense Secretary James Mattis in December. While Shanahan has been more accommodating, his mild-mannered and sometimes tentative style in public lacked the swagger Trump admires in his top aides.
As Mr. Shanahan's nomination languished, speculation mounted that the president could scrap the pick and instead tap Mr. Esper for the post.
Shanahan was likely to face questions from lawmakers about the incident during his Senate confirmation hearing. Fox News was told the panel was still waiting for paperwork from the FBI's background check.