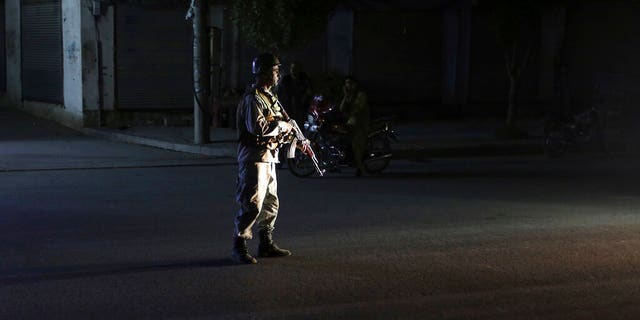 A bomb exploded at a wedding reception in the Afghan capital Kabul tonight, wounding at least 20 people, officials and emergency services said.
Kabul's brightly lit wedding halls are known to hold hundreds of people and are a center of community life in a city tired of decades of war, with thousands of dollars spent on a single evening.
He said he had been in the women's section of the hall - men and women are usually separated during Afghan weddings - when he heard a huge explosion in the men's area.
Eye witnesses told the BBC a suicide bomber detonated explosives during a wedding ceremony.
Witnesses said members of the minority Shia Muslim community were holding the wedding reception.
No group said it carried out the attack, which happened in the west of the city.
Taliban spokesman Zabihullah Muajahid condemned the attack through the WhatsApp messaging application, dpa news agency reported.
However, a spokesman for Afghanistan President Ashraf Ghani suggested it was a suicide attack.
The Taliban have condemned the attack and denied any involvement.
Ten days ago, a Taliban vehicle bomb aimed at Afghan security forces ripped through a busy west Kabul neighborhood, killing 14 people and wounding 145 - a lot of them women, children and other civilians.
The United States and Taliban insurgents have reported progress in talks on an agreement centred on a USA troop withdrawal from Afghanistan in exchange for a security guarantee from the Taliban.
While the Taliban earlier this year pledged to do more to protect civilians, it continues to stage deadly attacks against Afghan security forces and others in what is seen by many as an attempt to strengthen its position at the negotiating table.
The blast also comes at a time of anxious anticipation in Kabul as the United States and Taliban near a peace accord to end the war in which more than 3,800 civilians were killed or injured during the first six months of this year alone, according to UNAMA.