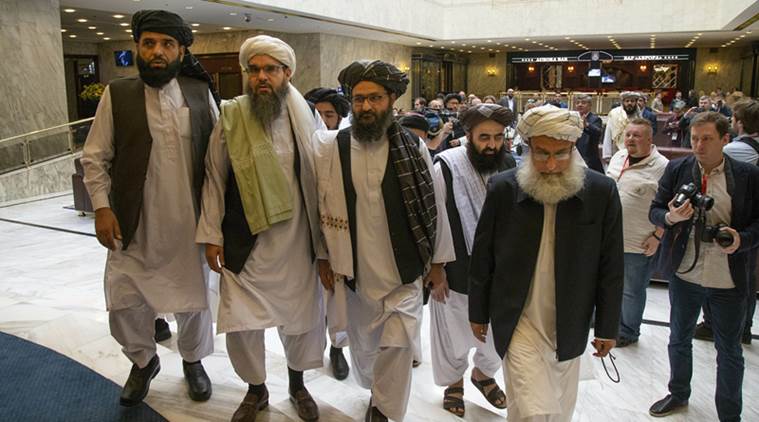 Taliban and U.S. negotiators have wrapped up their latest round of talks for a deal that would see America shrink its troop presence in Afghanistan, a Taliban spokesman said Monday.
The nine-day negotiations in the Gulf state of Qatar were wrapped up before dawn on Monday, announced a Taliban spokesman.
"Work was tedious and effective. Both sides chose to consult with their leaders/seniors for the next steps".
On Sunday, US peace envoy Zalmay Khalilzad tweeted: "I hope this is the last Eid where Afghanistan is at war", referring to the Eid al-Adha festival now taking place in the Muslim world. "We have concluded this round of talks that started August 3...."
The two sides have reported good progress in talks and it is expected that the two sides will sign an agreement in coming days. "They were productive. I am on my way back to DC to consult on next steps", Khalilzad wrote.
A Taliban spokesman had said last week that this eighth round of talks would conclude with a deal to end the almost 18-year war, America's longest.
He made no statements on the outcome of the talks.
"The peace will be a nationwide peace, not regional, partisan or ethnic, the peace will be belonging to all Afghans", Ghani said. "The fate of Afghanistan will be decided here in this homeland", Ghani said.
Ghani and his USA -backed government have not been involved in months of negotiations between Washington and the Taliban on an agreement for US troops to leave in exchange for a Taliban promise that Afghanistan will not be used by militants to plot attacks.
But the United States is pushing for Taliban agreement on two other elements: power-sharing talks with the US -backed government and a ceasefire.
The Taliban are at their strongest since the US -led invasion toppled their five-year government in 2001 after the group had harbored al-Qaida leader Osama bin Laden.
There was no immediate comment from the USA embassy in Kabul.
Afghan President Mohammad Ashraf Ghani on Sunday called for lasting national peace in his war-torn country.
"Our future can not be decided outside, whether in the capital cities of our friends or neighbours".
The Taliban stage near-daily attacks across Afghanistan, mainly targeting Afghan forces and government officials but also killing many civilians.
"Many scholars believe that the deeper meaning of Eid al-Adha is to sacrifice one's ego". The two sides are expected to agree on the withdrawal of some 20,000 United States and North Atlantic Treaty Organisation troops in return for Taliban guarantees that Afghanistan would not be a base for other extremist groups. "My very best wishes", tweeted the Afghan-born American diplomat.
An agreement with Washington is expected to pave the way for direct talks between the Taliban, the government and Afghan leaders.
It is widely perceived that a deal with the Taliban may lead to the postponement of the presidential election to allow the process to be held under a transitional setup, inclusive of insurgents.
The Afghan government has not been involved in the talks.