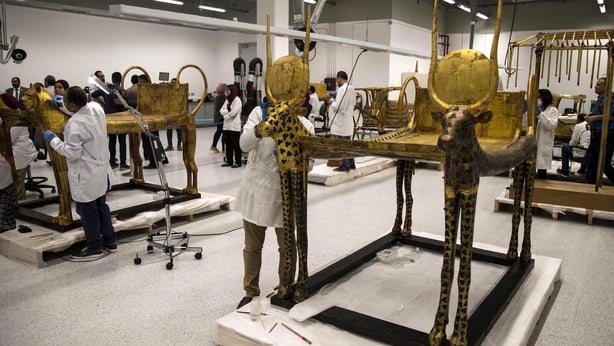 Dozens of journalists flocked to the under-construction museum near the Giza Pyramids on Sunday to take a rare glimpse of the coffin, which was placed inside a plastic incubator as Egypt started the first phase of a restoration project expected to last up to nine months.
At an up-to-date conservation laboratory in the Egyptian Grand Museum (GEM), the large gilded coffin of famous ancient king Tutankhamun was placed inside a plastic incubator for sterilization in order to be later fully restored for the first time since it was discovered nearly a century ago.
The state sarcophagus, part of three sarcophagi that were found in the Valley of the Kings in Luxor, is very "fragile", antiquities minister Khaled Anany said, adding that it had never been restored since the original discovery nearly 100 years ago.
The minister said the process to restore the outermost gilded wooden coffin will take the longest because "the state of conservation is very fragile, as it was never restored.", DW reported.
"The coffin has suffered a lot of damage, including cracks in the golden layers of plaster and a general weakness in all golden layers", Eissa Zidan, Head of the First Aid Restoration Department at the GEM, said last month. Tutankhamun, a pharaoh of the 18th Egyptian dynasty, ruled Egypt from 1332 to 1323 B.C.
His tomb contained three coffins nestled within one another.
The middle coffin was found inside the outer gilded coffin which is also made of gilded wood portraying the king in the Osirian shape, with arms crossed upon his chest and holding the insignia, the flail and the crook ornamented with blue and red glass.
Once the work has been completed, the coffin will be on display in the Grand Egyptian Museum - the first time the three caskets have been displayed together since their discovery. "They will be transferred to the GEM a few days before the opening".