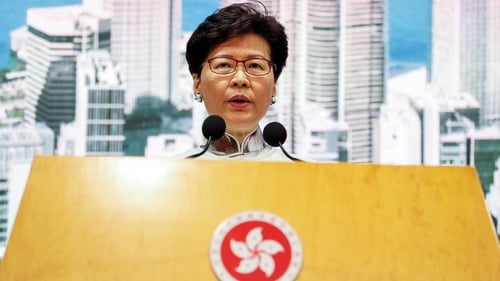 Riot police fire tear gas to disperse anti-extradition bill protesters after a march to demand democracy and political reforms, at Wong Tai Sin, Hong Kong, China August 24, 2019.
Chinese-backed news outlet HK01 said Lam was going to meet with lawmakers and they expected the bill to be withdrawn. It has so far allowed Hong Kong bookseller Lam Wing-kee (林榮基), who fled to Taiwan in May over extradition fears to China, following the passage of the contentious bill, to stay in Taiwan through visa extensions.
The formal withdrawal of the Bill is one of the major demands of pro-democracy protesters who have demonstrated against the government for nearly three months.
"A government source said that Lam will emphasise that the removal of the bill was to streamline the legislative agenda, with the Legislative Council set to reopen in October after its summer break and hence it was a technical procedure", the South China Morning Post wrote.
Although Lam had previously suspended the bill - saying it was "dead" - her move did little to appease demonstrators, who continued protesting and expanded their demands to include calls for greater democratic freedom.
Beijing today has thrown its backing behind Ms Lam.
The semi-autonomous city has been battered by three months of huge, sometimes violent, protests that were initially sparked by a plan to allow suspects to be extradited to the Chinese mainland for the first time.
China has dispatched regional state-run media organisations to Hong Kong in recent days to better control the narrative, Bloomberg News reported earlier on Tuesday, a shift from the widespread censorship employed during the Occupy Protests in 2014.
One man was taken out on a stretcher with an oxygen mask over his face, television footage showed.
Reuters revealed in an exclusive report on Monday that Ms Lam told business leaders last week she had caused "unforgivable havoc" by introducing the bill and that if she had a choice she would apologise and resign, according to a leaked audio recording.
With protesters and Lam's government at an impasse there are concerns Hong Kong's economy could go into a tailspin, with signs already that money is moving out to other financial centres, including Singapore.
Beijing denies it is meddling in Hong Kong's affairs but warned again on Tuesday that it would not sit idly by if the unrest threatened Chinese security and sovereignty.
Three men, aged between 21 and 42, were taken to Kwong Wa Hospital late on Tuesday, a hospital authority spokeswoman said.