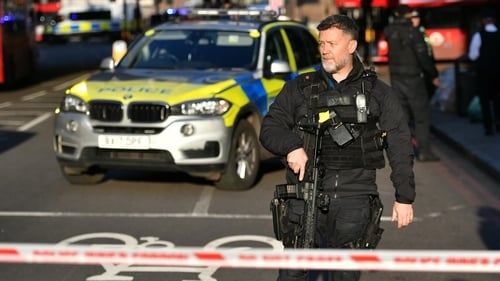 One video appeared to show civilians tackling a man to the ground on the bridge before police arrived.
Part of the bridge has been cordoned off and people have been evacuated from the area.
BBC reporter John McManus was in the area and said he saw figures grappling on the bridge.
We are now dealing with an incident at London Bridge.
It said: "A man has been detained by police".
A number of people have been injured in a suspected stabbing near London Bridge followed by gunfire being heard in the British capital.
"Then we heard a couple of other loud bangs that didn't sound like shots but were a bit louder".
The London Ambulance Service said it had crews at the scene and sniffer dogs have been seen in the locality.
Footage posted from inside a passing bus showed armed police pointing guns at a person who appeared to be lying still on the pavement.
It is believed somebody was stabbed in the London Bridge and police have shot a suspect, a security source told Reuters.
"There are more police coming into the area as I'm speaking, they're telling people to clear, to move back", he continued.