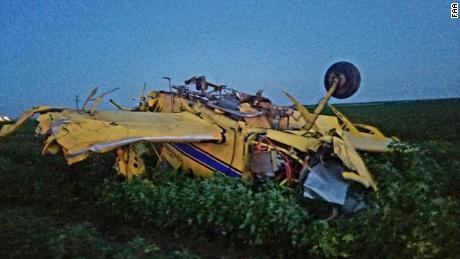 A Texas plane crash that injured one person was part of a gender reveal stunt gone wrong, a National Transportation Safety Board report said Thursday.
There were two people on the plane, which was designed for one person.
A passenger suffered minor injuries while the pilot walked away unharmed in the Air Tractor AT 602 that crashed near Turkey, Texas, on September 7.
The plane crash occurred when the crop-duster stalled out after dumping hundreds of litres of pink water during a couple's gender reveal. Immediately after dropping the water, the plane stalled and crashed, sustaining damage to its fuselage and right wing, the NTSB said.
"The pilot reported that there were no preimpact mechanical failures or malfunctions with the airplane that would have precluded normal operation", the accident report said.
Gender reveal parties are meant to be a celebration for parents prior to the birth of their child, but some have gone catastrophically wrong in recent years.
In October, an Iowa woman died after she was struck by debris at a gender reveal party in Knoxville, Iowa, and two years ago, an off-duty patrol officer's gender reveal stunt caused a wildfire, which spread through 47,000 acres of brush.