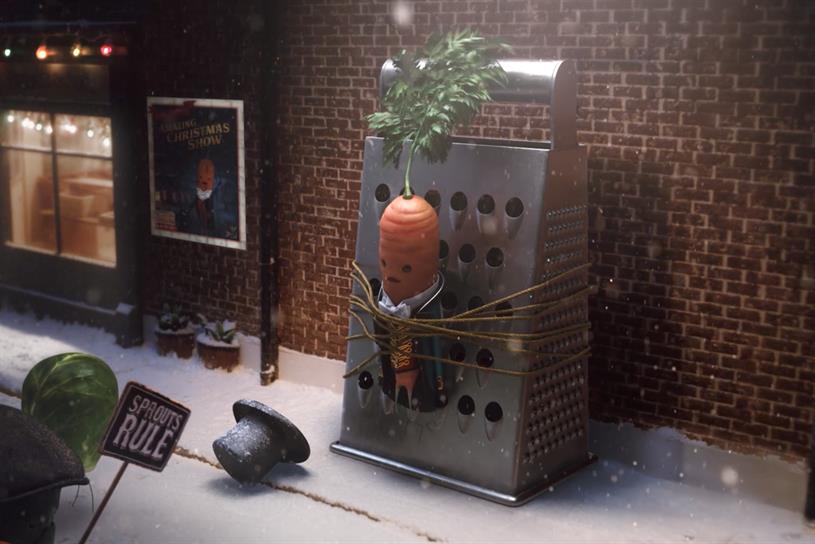 If John Lewis is the favourite christmas ad of the UK's middle classes (we haven't seen this year's yet, we reckon it's going to be a joint John Lewis/Waitrose effort) Aldi's "Kevin the Carrot" seems to be the favourite of a less upscale demographic (choosing words advisedly here.) The Sun likes them anyway.
Budget supermarket Aldi is the latest to unveil its advert, which is returning to screens on Thursday, November 7 at 5.30pm on ITV in a 70-second film, Hull Live reports.
However, Kevin now faces an adversary in new character Russell Sprout, and his Brummy gang of "Leafy Blinders".
This year's advert shows Kevin tied to a grater, with the angry sprouts gathering round to teach him a lesson.
The chief, Russell Sprout, is steaming around Kevin and his mates getting the chosen Christmas veggie. They've heard he's planning on putting on a massive Christmas show and they want to put a stop to it.
Kevin the Carrot then transforms into The Greatest Showman as he starts to sing a song all about Christmas.
The background track is a clever reworking of Robbie Williams classic Let Me Entertain You, with a while new set of lyrics worked in.
He said: "We're all thrilled to see Kevin back on our screens yet again, obtaining up to his standard tricks. Kevin's magical Big Top is the flawless environment to showcase the unbelievable quality of the Aldi Christmas range of food and drink this year".
The menacing sprouts feature Peaky Blinders inspired Newsboy hats and Birmingham accents.
It doesn't have to be all doom and gloom though - because there's a carrot named Kevin who's back in our lives, bringing joy, fun, and vegetable-based delight to all the family.