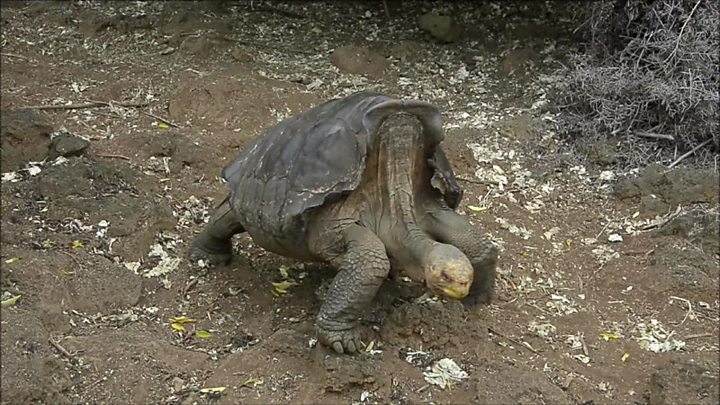 Diego, part of the Chelonoidis hoodensis species that lives on the Galapagos island of Espanola, was one of the tortoises brought to the US between 1928 and 1933 and was later placed into the Charles Darwin Research Station for protection after the species was declared critically endangered in the 1960s, according to the San Diego Zoo.
Diego, a giant tortoise belonging to the Chelonoidis hoodensis species that is native to the Galapagos island of Española in Ecuador, is finally retiring after decades in a captive breeding program, the AFP news agency reports.
The population went from 15 to 2,000 tortoises due to the program, according to the conservancy.
A 100-year-old Galapagos tortoise who single-handedly saved his species by fathering 800 offspring is set for release. The Galapagos National Parks told CNN that they believe Diego is the father of nearly 40% of that population.
"About 1,800 tortoises have been returned to Espanola and now with natural reproduction we have approximately 2,000 tortoises", Jorge Carrion, the park's director, told AFP. He is believed to be the patriarch of around 40 per cent of that population.
Gibbs credits Diego's success to his "big personality".
Diego's contribution becomes more apparent when contrasted with Lonesome George, another gaint tortoise living in Galápagos. One of the other males, who is known only as E5, helped spawn 60 per cent of the total tortoise population, Gibbs said. "The third male - "E3" - virtually none". George's species, Chelonoidis abingdonii, was wiped out because he never fathered any progeny in all his years at the park.
An already-adult Diego had been brought to San Diego Zoo in the United States in the early 1930s from Espanola, an island in the extreme southeast of the Galapagos archipelago.
But thanks, in no small part to randy Diego, those numbers are now over 2000.
It's unclear how much longer Diego has to live, but there's no guarantee that he will stop his sexcapades in retirement.
The islands, 906km west of continental Ecuador, are a Unesco World Heritage site renowned worldwide for their unique array of plants and wildlife, including seals, iguanas, tortoises and birds.