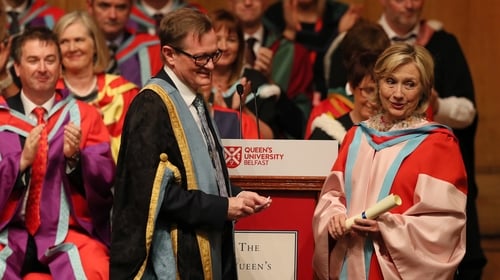 Queen's University has appointed the former United States secretary of state Hillary Rodham Clinton as its new Chancellor.
Clinton, who received an honorary degree from the university in October 2018, said in a statement that it was "a great privilege" to take on the position.
The former First Lady succeeds Dr Tom Moran, who passed away a year ago, and becomes the first woman to take up the post.
South Belfast MP Claire Hanna welcomed the appointment, describing it as a "positive reflection on Queen's University and Northern Ireland".
In her new role she'll be expected to preside over graduation ceremonies and travel overseas representing the university.
According to the university's website, the position serves three main functions: presiding over degree ceremonies, acting as an ambassador for the university in an effort to "open doors", and advising Vice Chancellor Professor Ian Greer and other senior staff.
Hillary Clinton has said that she "helped to bring peace to Northern Ireland" in a 2008 interview with CNN.
She first visited Northern Ireland as First Lady in November 1995 with her husband, President Bill Clinton.
Stephen Prenter, chairman of the university's governing Senate, said Clinton "has made a considerable contribution to Northern Ireland" and "will be an incredible advocate for Queen's and an inspirational role model for the Queen's community".
Former White House chief strategist Steve Bannon says former Secretary of State Hillary Clinton will enter the 2020 Democratic race as a cry of desperation for the party.
Since then, Mrs Clinton has been a regular visitor to the country.
Mrs Clinton recently told the BBC that she was "under enormous pressure" to challenge President Donald Trump in next year's election.