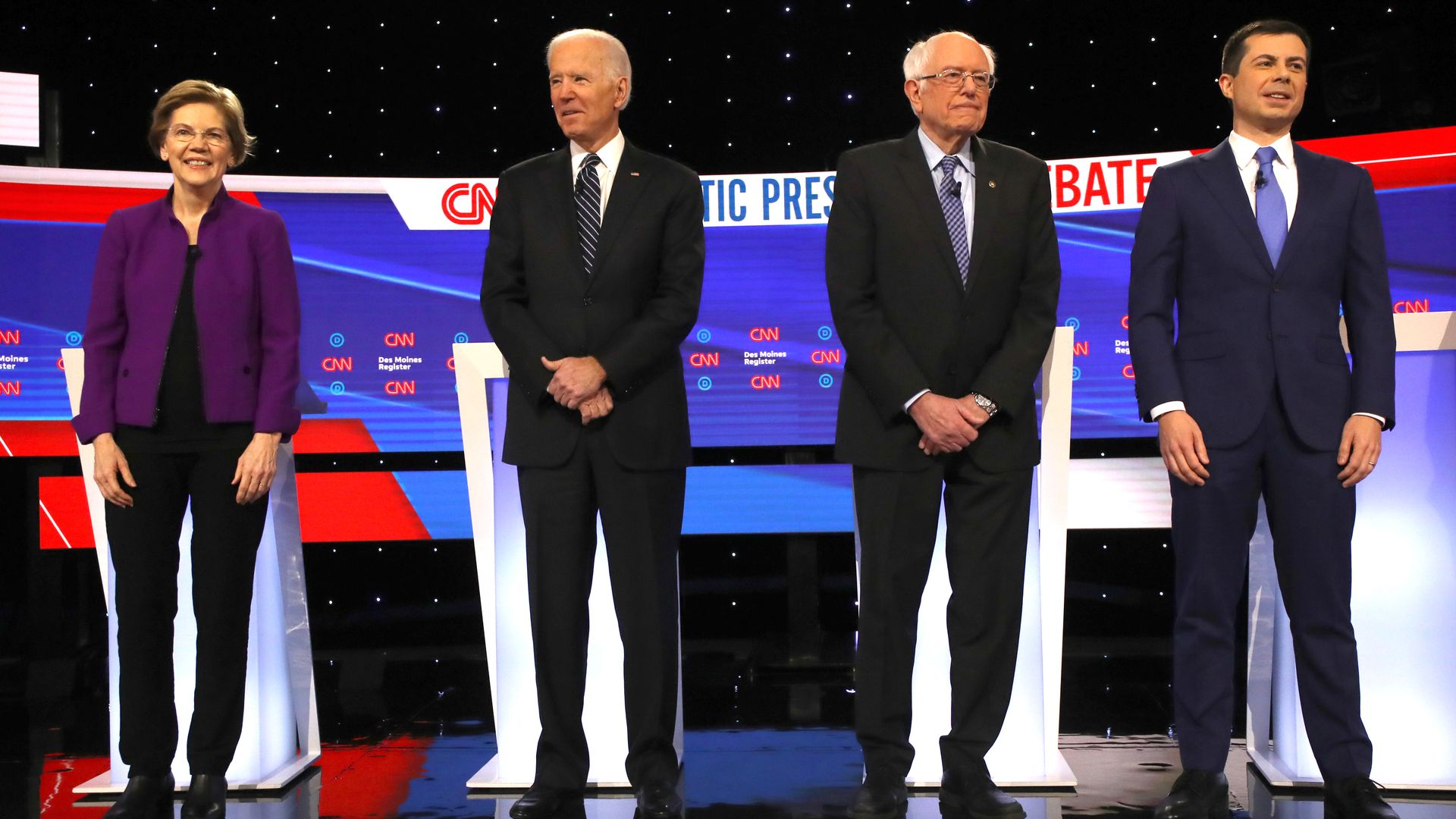 Sens. Elizabeth Warren and Bernie Sanders shared a tense moment after Tuesday night's Democratic debate. Some Sanders supporters took to Twitter to blast both CNN and Warren, who they accused of leaking what they claimed was a made-up story as a political hit job.
Yet, as Sanders himself pointed out from the debate stage, the Democrat challenger in 2016, Hillary Clinton, received three million more votes than Trump.
Sanders has vehemently denied that he said it, while Warren has released a statement contradicting him.
In a tense post-debate exchange caught on the candidates' lapel microphones, and later released by CNN, it's been revealed what was said as the pair exchanged words and Warren refused to shake the outstretched hand of Sanders.
"I think you called me a liar on national TV", Warren says to Sanders in the recorded audio.
"I think you called me a liar on national TV", Warren repeats. Sanders gently brushes it with his hand and then says, "Let's not do it now". For your security, we've sent a confirmation email to the address you entered.
As the debate dragged on, CNN's moderators hammered Sanders for his Medicare For All plan, suggesting it would "bankrupt the country", despite not mentioning the price of America's Middle East wars once.
The exchange was interrupted by his candidate and environmentalist Tom Steyer, who said "I don't want to get in between" and greeted Sanders when the senator left. And I don't want to waste a lot of time on this because this is what Donald Trump, maybe some of the media would want.
Following the debate, progressive activists anxious that escalating tension between Warren and Sanders could divide liberals.
But that changed yesterday, when Senator Warren said Senator Sanders had told her in a private 2018 meeting that a woman could not be elected president. "Anybody knows me knows that it's incomprehensible that I would think that a woman could not be President of the United States", he said. The only people on this stage who have won every single election that they've been in are the women. But, look, this question about whether or not a woman can be president has been raised and it's time for us to attack it head-on'.
"It showed the governor's race dead tied this year, and we showed Baldwin winning by 11, which she won by 10.9, Franklin said".
Senator Amy Klobuchar jumped in to echo Warren's point, adding that two of the Democrats who ousted Republicans from crucial statewide governorships were women, Gov. Gretchen Whitmer of MI and Gov. Laura Kelly of Kansas. True, but there was only one candidate on stage last night - Sen.
"No one is going to trash Elizabeth Warren", he added.