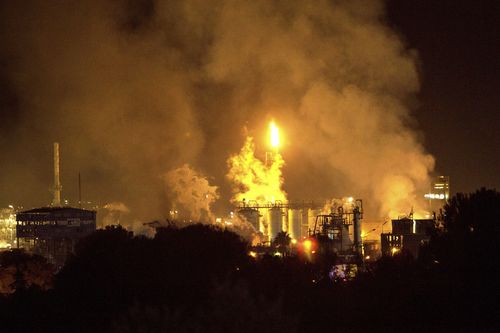 Global reports claim that at least one person has been killed in the explosion and injured another eight.
A local government spokesman said a preliminary investigation indicated the force of the blast killed an individual in a nearby neighbourhood.
Iqoxe CEO Jose Luis Morlanes said the explosion occurred in a 20-ton tank of ethylene oxide in a part of the plant that had not had any problems since it was built in 2017.
Following the incident videos, including one captured by a CCTV camera near the scene, have begun to circulate online showing the moment a large mushroom cloud emerges above the factory.
The cause of the blast at the IQOXE facility - which specialises in the production of ethylene oxide, glycol and propylene oxide - was not immediately known.
The victim, who was only referred to as Sergio by local media, was home on Tuesday evening in his apartment near Tarragona in the Catalonia region, when a lump of one-ton metal fell from the sky.
The civil defence agency, which initially advised people nearby to stay indoors as a precaution, said air quality tests carried out on Wednesday had not shown any risk.
Area residents are used to the wails of emergency sirens once a year, when a chemical accident drill takes place.
Many local residents complained they had been left in the dark over the massive blast, saying the warning sirens had not been activated.
The city has over 1,200 hectare chemical hub called ChemMed.
Prime minister Pedro Sanchez's office said he was in touch with Catalan authorities and Madrid was ready to "provide the necessary support due to this serious event, which has caused several injuries and substantial material damage".
The explosion comes just over a month after a blaze at a solvent and industrial residues recycling plant in the northeastern town of Montornes del Valles.