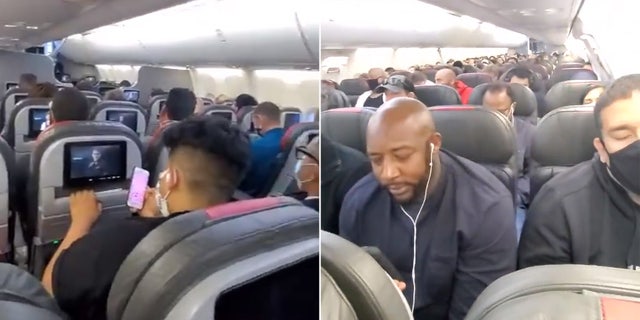 At each point of interaction with the passengers, the airport operator should try to provide a glass shield or any other transparent separation as far as practically possible for additional protection of the airport personnel and the passengers, the AAI also said.
The clip was uploaded to social media by user Tammy Gonzalez, who was on the American Air flight from Fresno in California to Dallas in Texas.
That is despite the Airline releasing a statement on May 11 saying that all passengers are required wear face coverings.
Gonzalez can be heard voicing her frustrating and says: "It's so overcrowded".
"All rows with the exception of maybe 4 rows were completely full of passengers. I've never felt so unsafe in my life".
In response, American Airlines said on Twitter: "We're working hard to create more space by limiting the number of customers on each flight".
The move is part of a long-term bet from CEO Ed Bastian as the travel industry starts its recovery from a decimated demand for flying amid the coronavirus pandemic, sources said.
The SOPs also call for the usage of open-air ventilation wherever possible instead of central air-conditioning and in cases where it is unavoidable, ensuring change in air circulation every few hours along with the change of air-filters.
According to the SOP, all passengers must have the Aarogya Setu app on their mobile phones which has to be verified by CISF or airport staff at the entry gate.
American Airlines told The Bee that 28 seats on that flight were not occupied, and that the aircraft was not at maximum capacity.
On its website, American adds that the airline is now restricting "some" seats, but can not guarantee that customers will be able to move to a more "comfortable" seating arrangement.
The detailed guideline explains the rules and procedures that passengers and air carriers must abide right from entering the airport from their origin city to exiting the airport at their destination. Regular cleaning and disinfection protocols have been implemented at the airport. Also, they should not travel if they have been tested positive for COVID-l9.
There are no government-imposed measures in the United States, though all major USA airlines require face coverings and several are capping the number of seats sold or leaving middle seats empty.