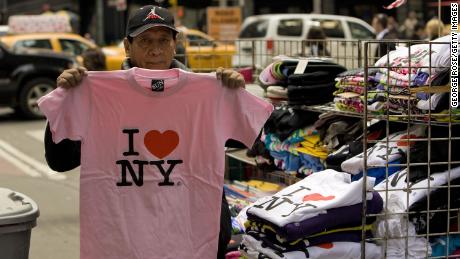 He also created a famous poster of Bob Dylan with psychedelic hair and was a co-founder of NY magazine.
Milton Glaser, who created the iconic "I Love NY" logo that powered the city's tourism industry to new heights, died Friday after suffering a stroke with added renal failure complications, his wife said.
Other notable work by Glaser includes his designs for the World Health Organization's worldwide Aids symbol and poster, the Brooklyn Brewery logo and an advertisement for Mad Men's final season. He attended the Excessive College of Music & Artwork in Manhattan and graduated from The Cooper Union for the Development of Science and Artwork in 1954. He also co-founded New York Magazine in 1968 with Clay Felker. Shortly thereafter, Glaser based Push Pin Studios, together with Seymour Chwast, Reynold Ruffins and Edward Sorel, which grew to become a frontrunner in untraditional graphic design for the subsequent 20 years. He opened Milton Glaser, Inc.in 1974, and continues to produce a prolific amount of work in many fields of design to this day.
His noteworthy designs include a psychedelic poster of Bob Dylan that combined Islamic imagery with the art of Marcel Duchamp.
In posters, logos, ads and e book handles, Glaser's concepts captured the spirit of the 1960s with a handful of straightforward colors and designs.
A native of the Bronx, Glaser came up with his logo concept while riding in another iconic part of NY - a taxi cab.
"What Milton Glaser gave to New York will long survive him", New York State Governor Andrew Cuomo said on Twitter. Inspired by Robert Indiana's "LOVE" image, Glaser created the iconic "I Heart NY" logo, which has gone on to earn New York state around $30 million per year.
Almost a quarter-century later, just days after the 11 September terror attacks, he revised it, adding a dark scar to the red heart and "more than ever" to the message.
In 1983, Glaser formed the publication design firm WBMG with Walter Bernard.
He won several awards during his illustrious career including the National Medal of the Arts award from President Barack Obama in 2009 - the first graphic designer to scoop the gong.