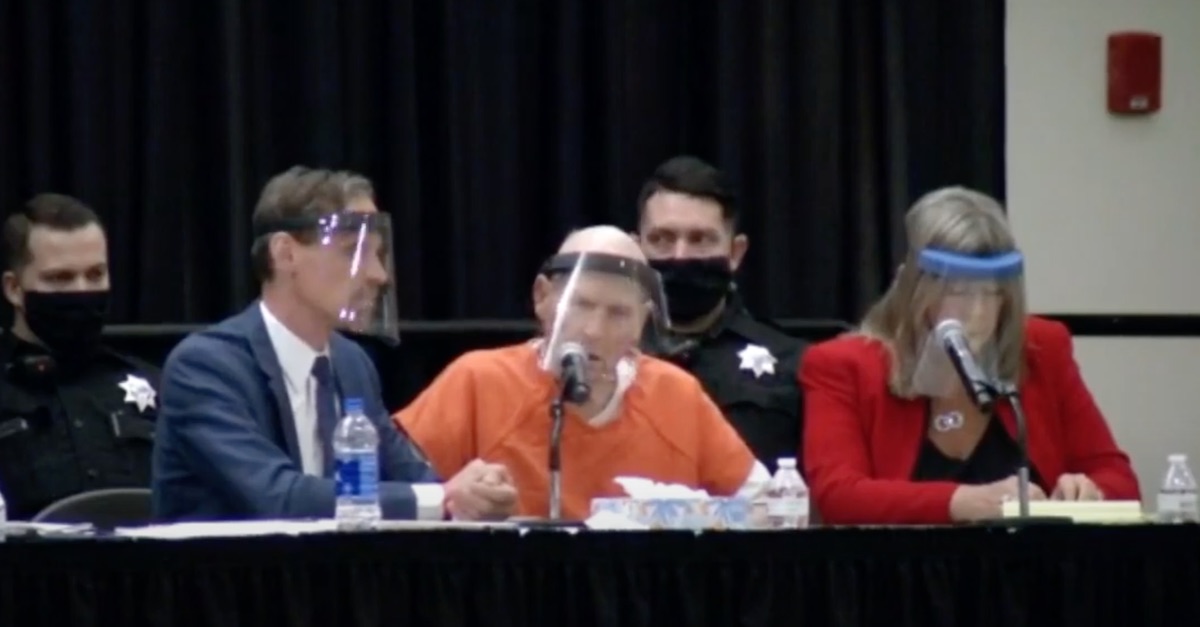 An ex-police officer accused of being the Golden State Killer, a serial predator who terrorized much of California with a string of slayings, rapes and break-ins over 10 years, pleaded guilty on Monday to multiple murder and kidnapping charges.
Under terms of the unusual plea deal, outlined by prosecutors and Superior Court Judge Michael Bowman at Monday's hearing, DeAngelo faces a sentence of life in prison without the possibility of parole.
Joseph James DeAngelo, 74, has also been accused of committing over 50 rapes between 1975 and 1986.
In 2018, prosecutors from Sacramento, Contra Costa, Orange, Santa Barbara, Tulare and Ventura counties filed 26 charges against DeAngelo and consolidated the cases against him. The Vietnam War veteran spent six years in law enforcement before he was sacked for shoplifting dog repellent and a hammer from a drugstore.
Victims of the Golden State Killer and their families waited through his 13-year crime spree.
In February 1978, the "Golden State Killer" shot and killed Brian and Katie Maggiore, who were walking their dog in the Sacramento area.
On Feb. 5, 1981, 28-year-old Manuela Witthuhn was raped and killed while home alone in Irvine in Southern California.
Then, they waited through decades of investigation into his identity.
Despite the defendant's frail in-court appearance, Sacramento County Deputy District Attorney Thien Ho said in court that DeAngelo "feigned feeble incoherence" after being arrested in 2018.
DeAngelo became the first public arrest obtained through genetic genealogy, a new technique that takes the DNA of an unknown suspect left behind at a crime scene and identifies him or her by tracing a family tree through his or her family members, who voluntarily submit their DNA to public genealogy databases.
In addition to 13 murders and kidnappings, prosecutors said DeAngelo was known to have committed almost 50 rapes in all and more than 120 burglaries - majority in and around Sacramento, the eastern San Francisco Bay area and Southern California.
They then gathered DeAngelo's DNA on the handle of a auto door and a tissue in his garbage can, which matched the DNA from the crime scenes.
He spoke in a weak, raspy voice only to give yes and no answers to procedural questions from the judge, and later to answer "guilty" when asked to plea for the murders and "I admit", when asked to acknowledge the rapes and other crimes.
While sparing the defendant from a potential death sentence, the deal also saves a dwindling number of aging survivors, victims' families, witnesses and law enforcement officers involved in the case from prolonged legal proceedings, prosecutors said. Due to the large numbers of people attending, the hearing was held at a ballroom at California State University, Sacramento to allow for social distancing.