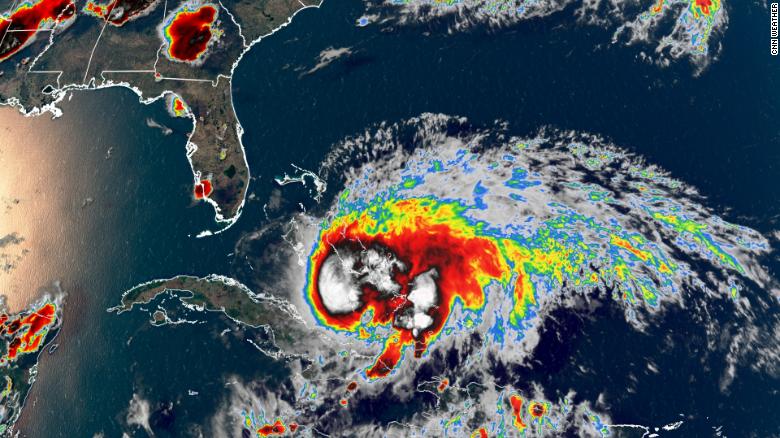 The storm has caused at least two deaths in the Dominican Republic and torn down trees, flooded streets and knocked out power for thousands of homes and businesses in Puerto Rico, according to media reports. It is bearing down Saturday on places where the virus is surging, piling another burden on communities already hard-hit by other storms and sickness.
The hurricane has prompted authorities in parts of Florida to close COVID-19 testing sites at a time when cases have been growing in the state.
Isaias is expected to re-strengthen into a hurricane overnight as it approaches southeastern Florida, said the Miami-based National Hurricane Center. Hurricane Isaias will be near the Florida coast tonight and Sunday.
Bahamian officials said they were concerned about a Category 1 storm hitting amid the coronavirus pandemic.
Florida Governor Ron DeSantis declared a state of emergency for a dozen counties on the Atlantic coast, which makes it easier to mobilize resources. Though officials did not expect to have to evacuate people, they wrestled with how to prepare shelters where people can seek refuge from the storm if necessary, while safely social distancing to prevent the spread of the virus.
On at least two islands in the country, Abaco and Grand Bahama, which were battered by Category 5 Hurricane Dorian in August 2019, some residents were still living in temporary structures and had to be evacuated as Isaias approached.
Isaias was expected to deliver heavy rains to the state's Atlantic coast beginning late Friday before hitting the eastern Carolinas by early next week, the NHC said.
Officials reported that a man died in the Dominican Republic when he was electrocuted by a fallen electrical cable. On Abaco island, officialsevacuated people who had been living in temporary housing since Hurricane Dorian hit the region previous year, The Associated Press reported. On the forecast track, a decrease in forward speed is expected for the next day or so, followed by a north-northwestward move by late Sunday and a turn toward the north and north- northeast on Monday.
In Puerto Rico, the National Guard rescued at least 35 people from floodwaters that swept away one woman who remained missing.
The state was "fully prepared for this and any future storm during this hurricane season", DeSantis said, with stockpiles of personal protective equipment, generators, bottled water and meals ready to be distributed.
Florida's daily Covid-19 death toll rose to a record earlier this week. A storm surge watch is in effect for Jupiter Inlet to Ponte Vedra Beach. But, she added, "I feel that the public is really panicking because it's a hurricane and we're in the middle of a pandemic".
In Palm Beach County, about 150 people were in shelters, said emergency management spokeswoman Lisa De La Rionda.