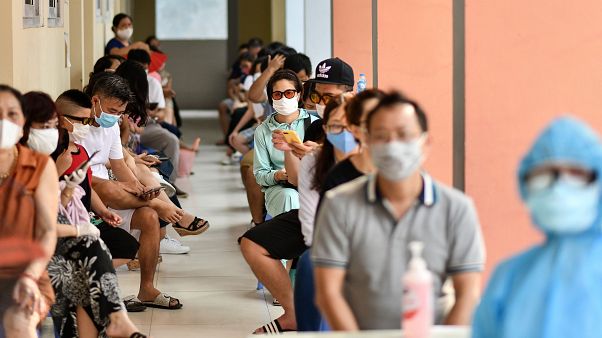 An aerial photo shows quiet streets during social distancing in Hoi An, Vietnam, Friday, July 31, 2020.
Vietnam on Friday reported 45 new coronavirus infections in the city of Danang, marking the country's biggest single-day jump in cases, as the health ministry sent more health experts to the central city in a bid to combat the outbreak.
The Thanh Nien newspaper said a 70-year-old man died after contracting the disease while being treated for a kidney illness at a hospital in Da Nang where more than 90 cases have been reported over the past week.
Vietnam has reported its first coronavirus death on Friday.
At least 21,000 people are undergoing rapid test swabs for the virus in the capital Hanoi after travelling to Danang.
The task force includes 65 health experts who had previously helped fight coronavirus at other epicentres in Vietnam, the ministry said.
The health ministry has since confirmed the death. The country had recorded 100 days without a locally transmission case before the reemergence of the virus. Across the country, authorities are rushing to test people who have returned home from the coastal city.
State media said a makeshift hospital is being set up at a Danang sports center in anticipation of the outbreak worsening.
The communist state has won praise for its handling of the virus - reporting just 509 infections in total, including those from the new wave, and no deaths despite sharing a long border with China.
Vietnam reacted quickly to try to contain the spread from Da Nang, a popular destination where thousands of tourists were vacationing on its golden beaches.
Since then, cases have been confirmed in Hanoi and Ho Chi Minh City.
Da Nang was put under lockdown on Tuesday and testing and business restrictions increased in other areas.