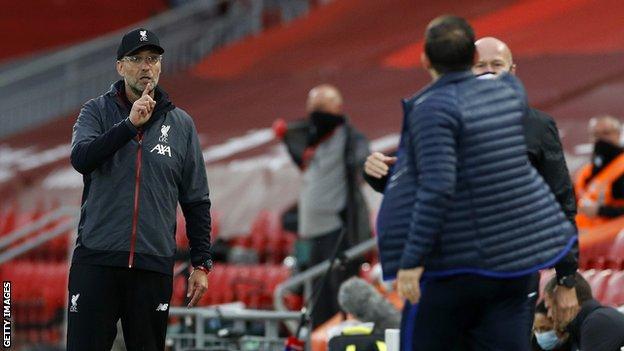 Bayer Leverkusen's Kai Havertz and Leicester City's Ben Chilwell joined Hakim Ziyech of Ajax and Timo Werner of RB Leipzig while defenders Thiago Silva and Malang Sarr arrived on free transfers from Ligue 1.
Frank Lampard accepted the job of Chelsea manager last July in the knowledge that he could not sign players due to the club's transfer embargo, yet what lay in wait was always likely to offer compensation for what he warmed may be an uncomfortable first season as Blues boss.
Getting the players to gel in his line-up will be a challenge as history confirms that clubs signing a glut of high-profile players often struggle to fit all the pieces of a new-look jigsaw together, with Lampard believing he is merely playing catch-up on his rivals this summer.
"We are a different kind of club". The really smart thing Liverpool have done is believe in their coach and believe in their system for a number of years.
"But then it moves very quickly to where people are asking 'can you win games now?'"
Tomas Kalas's £8.1m move to Bristol City and the exit for David Luiz to Arsenal last summer added to the surplus on the Blues balance sheet, with the exit of additional fringe players bringing total income from player departures at Chelsea over the previous year to a whopping £226.23m.
"You understand that when there is competition from the likes of Liverpool and Manchester City that you need to state your best case to the player", said Lampard.
"There is a lot of work getting almost 100 points in a season so we need to try to bridge that gap in our own way".
"We can hopefully go day-by-day and game-by-game improvement to get that level of consistency".
Asked about the focus shift from "nurturing" last year to "investment" this summer, Lampard told Sky Sports (via Football Daily): "I love both parts of that, I love the nurturing last year but not just the nurturing". It's something we had a long look at a year ago.
"It feels good because it has been work, it's what you set out to do". But to try to improve the club, and that's part of our plan. There's no point in doing the maths too much with it - we know Liverpool have spent at a high level, they have an incredible coach and have incredible players. "We've made positive moves, now it comes down to work and whether we can show it on the pitch".
After scoring 28 goals in the Bundesliga last season, Werner will be determined to hit the ground running in the Premier League when Chelsea face Brighton in their season opener on Monday night.