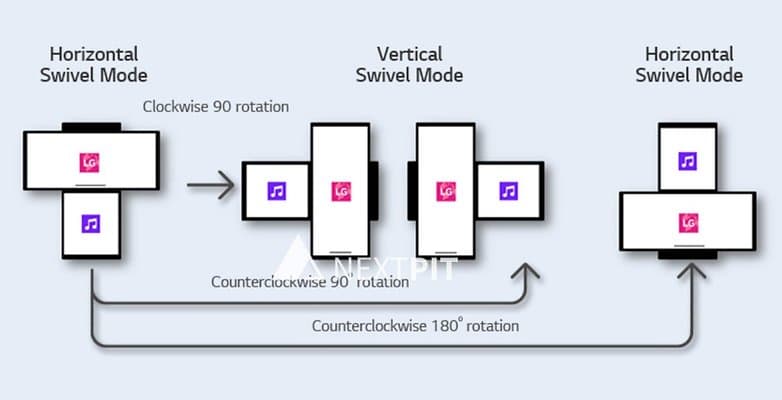 As far as the availability is concerned, the LG Wing will be available in South Korea starting next month in Aurora Gray and Illusion Sky colour variants, after which it will be made available in key markets in North America and Europe. LG envisions "Swivel Mode" (yes, that's what they're calling it) as a way for users to get more out of a single application; video sharing and streaming apps, for example.
Users will have the option of saving combinations of apps to open simultaneously on the LG Wing and you'll also be able to rotate the phone so that the swiveled main screen is above, below, to the left, or to the right of the secondary display. The second screen can also work as a media controller while playing videos on the main screen. This turns the second display into a grip, helping you to hold the LG Wing steady while recording video. It can also expand on the features of apps, where one screen can be used to display a video clip, while the bottom screen can be used for other things, like a scrubber or to check for comments.
LG Electronics on Monday unveiled its T-shaped dual-screen smartphone called the LG Wing via an online event in Seoul. And it has three rear cameras: A 64 MP main lens, a 12 MP ultra-wide lenses with big pixels, and a 13 MP ultra-wide lens. The main display flips out to unveil a second hidden display underneath.
The Wing features the first notchless OLED screen, which provides the fullest screen experience among LG phones. The results can be saved together in a single file, or in two separate files with the aspect ratio set to either 1:1 or 16:9. However, the second screen comes with an odd, 1.15:1 aspect ratio and a pixel density of 419ppi. There's a Snapdragon 765G processor with Qualcomm's integrated X52 modem for 5G support, 8GB of RAM, 256GB of storage, a 4,000mAh battery, an in-display fingerprint sensor, and support for wireless charging.
When users want to take selfies, a small 32-megapixel camera module pops up from the top of the device.
Other than that, the phone comes with features like gimbal motion camera, Hexa Motion Stabilizer, AI CAM, and more.
"The Gimbal Motion Camera, the world's first in a smartphone, turns the LG WING's Second Screen into a convenient grip, providing the stability needed to capture clearer shots and smooth video footage in horizontal mode with one hand, normally hard to accomplish with conventional bar-type smartphones", LG said.
With the main screen being swiveled, the gimbal camera enables users to capture moving objects while staying still by controlling the camera with a joystick-like button on the second screen.