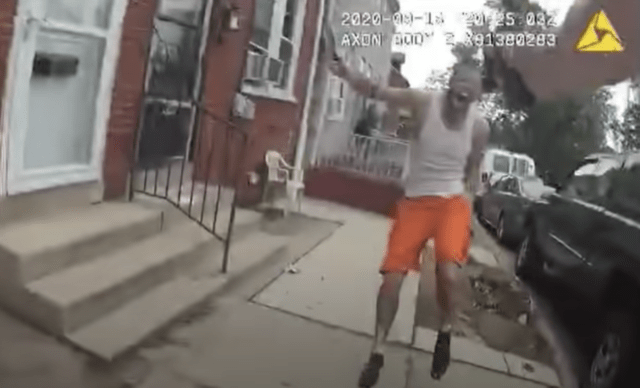 Protesters erupted on the streets of Lancaster, Pennsylvania Sunday night after a knife-wielding suspect was shot and killed by police while charging an officer with a knife overhead.
Police affirmed that, at the time of their update, protesters were "still gathered outside the station" and had "thrown traffic barricades, large planters, and trash receptacles across the ramp".
More than a hundred protesters gathered outside the city's police station after the shooting, the police department said, making Lancaster the latest flashpoint in a summer of USA civil unrest over racism and police shootings.
"Bricks were thrown through the front of the police station and into the post office window", police said.
The crowd "failed to follow the instructions", police stated, adding that items including glass bottles, gallon jugs filled with liquid, parts of plastic road barricades and more had been thrown at officers.
What started as a peaceful demonstration quickly escalated when protestors allegedly refused to move off of the police station's west side access ramp.
Bodycam video shows Ricardo Munoz, 27, pictured "brandishing a knife over his head" in a threatening manner.
According to the Lancaster Bureau of Police, Munoz's sister had called 9-1-1 around 4:13 p.m. Munoz was "reportedly becoming aggressive with his mother and was attempting to break into her house". Protesters also used spray paint to send a message.
The city's police department, which released body camera footage of the incident, said the man chased after the officer brandishing a knife in his right hand. About 10 minutes later, Munoz left the home and chased the first officer to arrive at the scene.
The District Attorney's Office is now in the process of conducting a criminal investigation to see whether the force used by the officer was justified, Lancaster police chief Jarrad Berkihiser said in an interview with Lancaster Online.
The footage shows the officer fire several shots while running away from Munoz, who then falls to the ground.
The officer was placed on administrative leave, the mayor's office said in a statement, calling it "a heartbreaking day for our city".
Stephanie Pagones is a Digital Reporter for FOX Business and Fox News.