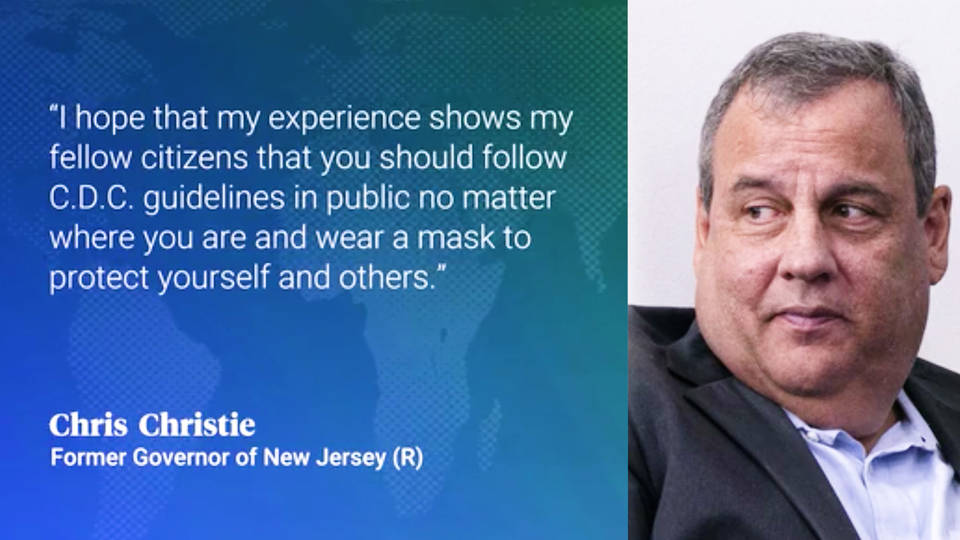 An asthma sufferer, Christie said he was wrong to let his guard down as part of Trump's inner circle of advisers and urged Americans to wear masks and take the virus threat seriously.
Noting that the U.S. "may seem very divided today", Christie ended his statement Thursday with a call to action - urging people to follow best public health practices while reopening as many businesses as possible.
Christie was hospitalized with the virus at Morristown Medical Center in New Jersey from October 3 until October 10.
Christie, who is a Trump ally, on Friday said it now wasn't enough for the President to express approval of masks, saying "we should be even more affirmative about it".
Christie's humility in the wake of his experience is refreshing, considering Trump is still continuing to push false narratives regarding the virus.
"I was wrong. I was wrong not to wear a mask at the Amy Coney Barrett announcement and I was wrong not to wear a mask at my multiple debate prep sessions with the president and the rest of the team". I did it for 7 months George, and I stayed healthy. "I was wrong", Christie told the Times. Christie was treated with Eli Lilly and Co.'s experimental antibody treatment, along with Gilead Sciences Inc.'s antiviral Remdesivir, an Ebola drug.
"I was put in the third row, and what they told us was that everybody in the first three rows had been tested that day and tested negative, " he said of the Barrett event in the Rose Garden on September 26.
"When you have seven days in isolation in an ICU though, you have time to do a lot of thinking".
The comments stand in contrast with remarks made by President Trump, who told "Today" show anchor Savannah Guthrie during an NBC town hall on Thursday night that he was "good with masks" and "okay with masks" - fueling ongoing criticism of his refusal to promote their use.
"We need to be telling people there is no down side to be wearing masks". We need to be honest with the American people. Christie stated, "I believe that these two steps can bring our country together while our pharmaceutical companies invent the therapeutics and vaccines which will rid us of this virus". Everybody's going to make their own decisions on that but I think no matter what you're doing, whether you're at a rally for your preferred candidate whether you're out at the supermarket, whether you're at a protest, no matter what you're doing, you should have a mask on and you should try to remain socially distant from folks.